All Articles
Personal Styling vs Fashion Styling: What's the difference?
28 Oct
by
Wendy Elsmore
If you're passionate about style but you don't know exactly what you want to do in the industry you may benefit from learning more about Personal Styling vs Fashion Styling; two very popular but very different careers.
However, because the term 'Stylist' is used so broadly it can cause some confusion among people who are just starting out on their fashion journey.
There are so many wonderful career paths within the fashion industry that it can be difficult to find the right one for you.
In this blog, we explain what Personal Stylists and Fashion Stylists actually do, and the differences between the two.
What do Personal Stylists do?
Personal Styling is a booming industry right now that is set to remain very busy, so it's a rewarding and lucrative career choice. As a noticeably higher percentage of potential clients are realising their greatest investment is themselves, a great Personal Stylist is one of the best investments in self-care individuals can make.
Personal Stylists work with individuals to curate wardrobes and looks that create the very best of each client complementing their physique, body shape, personality, taste and lifestyle. Personal Styling is all about making the client look and feel their best as you guide them on a personal style journey of outer and inner growth led by you.
The Personal Stylist achieves this by working closely with the client to understand their goals and unique style focused on creating a wardrobe of looks that truly represent the client to bring joy and shine the spotlight on their best features and who they are.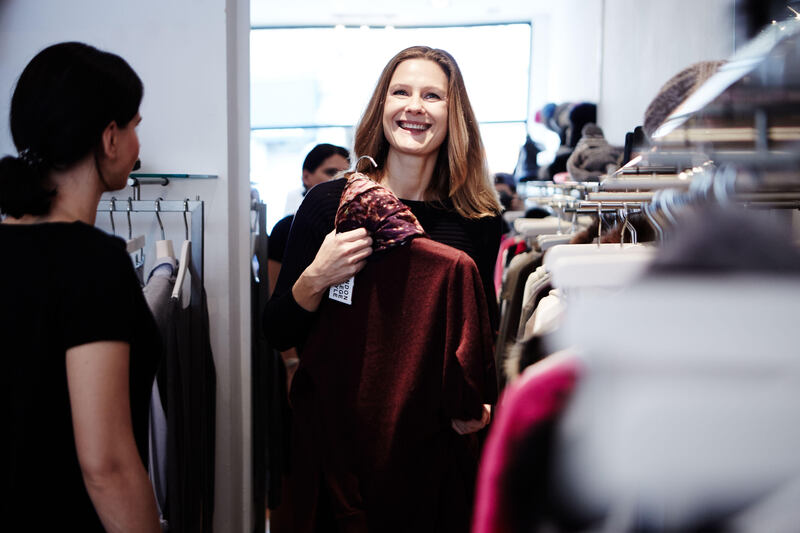 Clients generally find Personal Stylists online, through recommendations from friends or instore and online within their favourite brands.
The Personal Styling process usually begins with a meeting, historically known as a consultation so the Stylist can get to know the client; what they do for a living, what they are passionate about, what their taste is, which colours they like and dislike, what their current wardrobe looks like and so on. This can be held in person or online.
After the initial (consultation) meeting, the Stylist will offer a range of experiences historically known as services. This will include a Wardrobe Reset, where they will edit and re-organise the client's wardrobe working only with items that look great on them. They may start the process with a physique or body shape analysis to help their client discover which styles work best for their shape.
Clients can also ask Personal Stylists to deliver a Wardrobe Reset followed by a Personal Shopping experience, where the Stylist will pull together different key looks in a pre-arranged fitting room or style studio or take the client from store to store looking for flattering new key pieces.
The Personal Stylist's number one priority is to help the client feel confident and good about themselves and to look incredible too. This is one of the most rewarding aspects of a career in Personal Styling. It can be such a transformative experience for the individual that it can be life-changing in how they view themselves. With reviewed self-confidence, working with a great Personal Stylist is one of the best self-care investments they will make, giving them a new zest and perspective on life and renewed energy levels and self-belief.
Personal Styling sits separately from Fashion Styling as it's completely tailored to the individual, requiring careful research and planning to help the client dress in a way that reflects who they truly are, naturally flattering physique, body shape, lifestyle, and personality.
There is a crossover however when it comes to dressing celebrities! Both Personal Styling and Fashion Styling offer the potential to dress celebrities, with careers such as a Celebrity Personal Stylist or a Celebrity Fashion Stylist for the red carpet, press events, music videos, and editorial. Both career paths offer a different way into the industry to expand skills along the way, making important contacts over time that may lead to dressing and styling celebrities.
Discover our Personal Styling courses.
What do Fashion Stylists do?
Fashion Stylists mostly work with models on fashion editorials for glossy magazines, and video and photography shoots. A highly sought Fashion Stylist with an enviable reputation may be involved in choosing the artistic direction of the entire set or campaign, however, the Stylist's primary job is to pull together clothing and accessories for the models to wear that fit the brief given the chosen art direction or theme.
Fashion Stylists primarily fall into two categories; editorial and commercial, although many also work on personal styling projects and especially celebrity personal styling as well.
Fashion Stylists may work across editorial, commercial, Personal Styling and celebrity Personal Styling. However, it's usually individuals who have honed their styling skills and have years of training and experience who are able to take on a range of versatile and high-profile projects.
So, what exactly are Editorial styling and Commercial Styling?
Editorial Fashion Styling
Editorial Styling is focused on creating stunning visual assets for magazines. The images stylists work on will usually be published in print and online.
The beauty of Editorial Fashion Styling is the freedom it often allows for creativity. You aren't necessarily there to sell a brand or its products. Rather, the Stylists are being commissioned by an Editor to produce provocative imagery or video that can be used in their magazine or online media platform to a brief, to bring an editorial story to life as a visual storyteller.
Magazine articles, still-life shoots, portraits, interviews, and the main fashion shoots you see in Elle and Vogue are all examples of editorial content. This is not to be confused with the advertisements which are created and paid for by the brands themselves (usually the first 10-50 pages of a publication).
Some of the most glamorous and exciting projects for Fashion Stylists are the main fashion shoots that take the reader on a journey through a magical narrative created by an Art Director and art team which includes Stylists, Makeup Artists and sessions Hairdressers.
Most Stylists build their portfolios around editorial content as this provides such a great opportunity for creatives to do what they do best…
…create!
Great Stylists usually build their professional network and portfolio by producing striking editorial content as it helps them to establish a name for themselves as well as become known across a network of art team creatives moving from project to project, commission to commission. And it is a small industry, once you are known for your good work and skill, as well as being liked, you will often work repeatedly with photographers and clients.
Commercial Fashion Styling
Commercial Styling is usually commissioned by brands to help them sell a product as part of their marketing. A brand will select a Stylist or team of Stylists to create stunning product imagery with the primary objective of selling a product or promoting a collection.
Everything from styling models for catwalk shows and producing lookbooks, to social media advertising and e-commerce content, can be categorised as Commercial Styling.
Most commercial projects are given to people within the fashion industry who have developed a reputation through producing eye-catching editorial content. So understanding what it takes to be a successful Editorial Stylist is essential in securing and executing world-class commercial campaigns where the highly paid work is. Commercial projects are usually much better paid than editorial projects, although many editorial projects allow the Stylist to get their creativity flowing. So an ideal career moves between the two worlds of creative editorial and commercial e-com.
Discover our Fashion Styling courses
Personal Styling vs Fashion Styling: Summary
All stylists have the freedom to express a narrative through clothing, but the application differs between Personal Stylists and Fashion Stylists.
Personal Stylists help individuals scrutinise and edit their current wardrobe and acquire new key pieces to complement their current wardrobe helping them define and build upon their personal style, all with the goal of making the client look and feel their best selves. Celebrity Personal Stylists also dress celebrities for the red carpet, press events, and music videos in the same way that a Celebrity Fashion Stylist will do.
Fashion Stylists pull together looks for models that seamlessly fit the art direction or theme of a photo or video shoot and either help to promote a brand's products or assist in creating stunning visual assets for publications.
Thinking of becoming a Personal Stylist, Fashion Stylist or Celebrity Stylist? We have everything you need to get started on making your dream career a reality. Get in touch with LCS or browse our list of accredited fashion training.