All Articles
LFW SS19 – Paul Costelloe
24 Sep
by
Joe Miller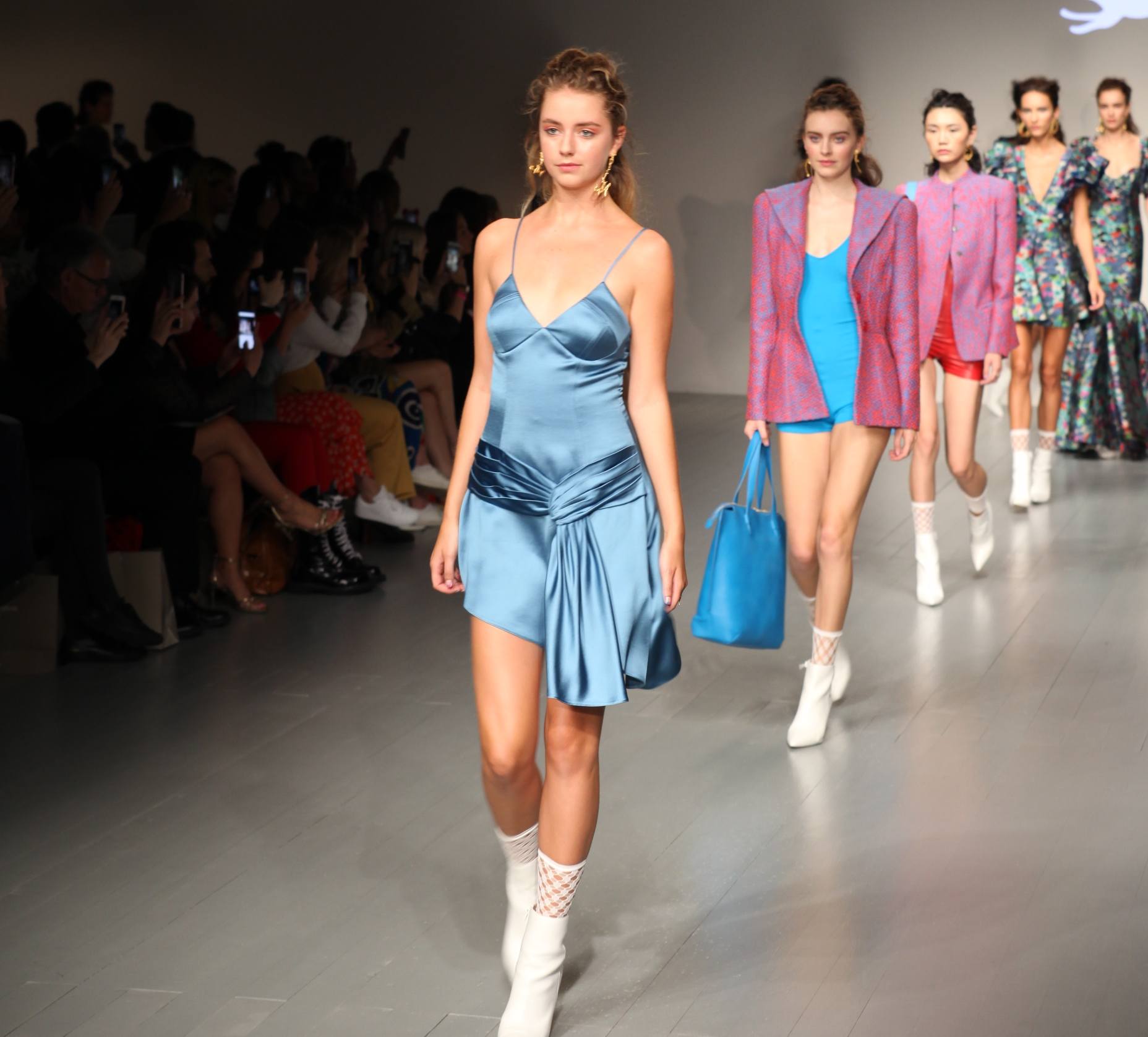 by Eoin Kirwan-Taylor
If you are maybe catching up on your last episode of power or game of thrones, I ask you now to stop whatever you are doing and tune in to the very exciting news of Fashion Week 2018 and the show of Paul Costelloe…
THE FRENZY OF THE FASHION WEEK
Hauled by red signals at every train station, I was rushing – sweat dripping down me, the wax in my hair holding onto every last strand whilst I approach the Temple station. The doors open, I take a breath and I'm out like a bat, sprinting for the show:"I can't miss it!". Two minutes remain until I take my place. My adrenalin pumping, I can't wait. The doors open, I rush to the pit to set up, the scenery the ambience of the room roars with beauty and excitement.
I've never seen anything like it. The music intros "somewhere over the rainbow" and I am hooked within a few seconds. The light blurs in. There she is, the first model on the catwalk, wearing quilted dress, her hair tight back in a neat bun, almost reminding me of the 40's wizard of oz look. I was blown away – silk, pizzazz and diva looks, everything I wanted for that perfect shot. It was powerful. I never would have thought a dress could determine someone's mood or bring back a fond memory the way it did during this show.
At the end my camera was full of beauty – overridden with glam, topped with flowers, silk and gorgeous models.
GUESS WHO I'VE MET
I never would have thought I would be amongst all of the crowd and photographers at the LFW. I was out of my comfort zone as I've only shot my friends in the past and took photos of architecture which I do as a hobby. However, facing the challenge of wrangling my way through crowds to get the perfect shot, allowed me to sharpen my skills with the camera as well as crowd-management. Plus I got to meet fascinating people that currently work in the industry.
In fact, I met Paul Costelloe himself! Great bloke and Irish like me. I told him "your an inspiration" he came back with "tanks a million", coming from Ireland I laughed and so did he. Overall he's a brilliant man and a creative genius who I heavenly respect.
MY FAVOURITE PIECE FOR AN EDITORIAL SHOOT
Throughout the show I came to a judgement that the dress below would be ideal for an editorial shoot. This due to the see through features and the use of webbing which overall in my eyes highlighted a sense of beauty. The colour black may be relevant to death, however looking at this dress; I suddenly change my view due to the elegance of the cuts and see through features which give it a sexy vibe.
I believe it would be great to use for an editorial shoot as there is a lot of character in the dress due to its unique features, which ultimately make the eye deceive the colour black as there is a strong aura of elegance and beauty.
Eoin is a Foundation Fashion Photography Diploma student at LCS. You can follow him on Instagram at @eoinkt