All Articles
Just A White Shirt
24 Apr
by
Joe Miller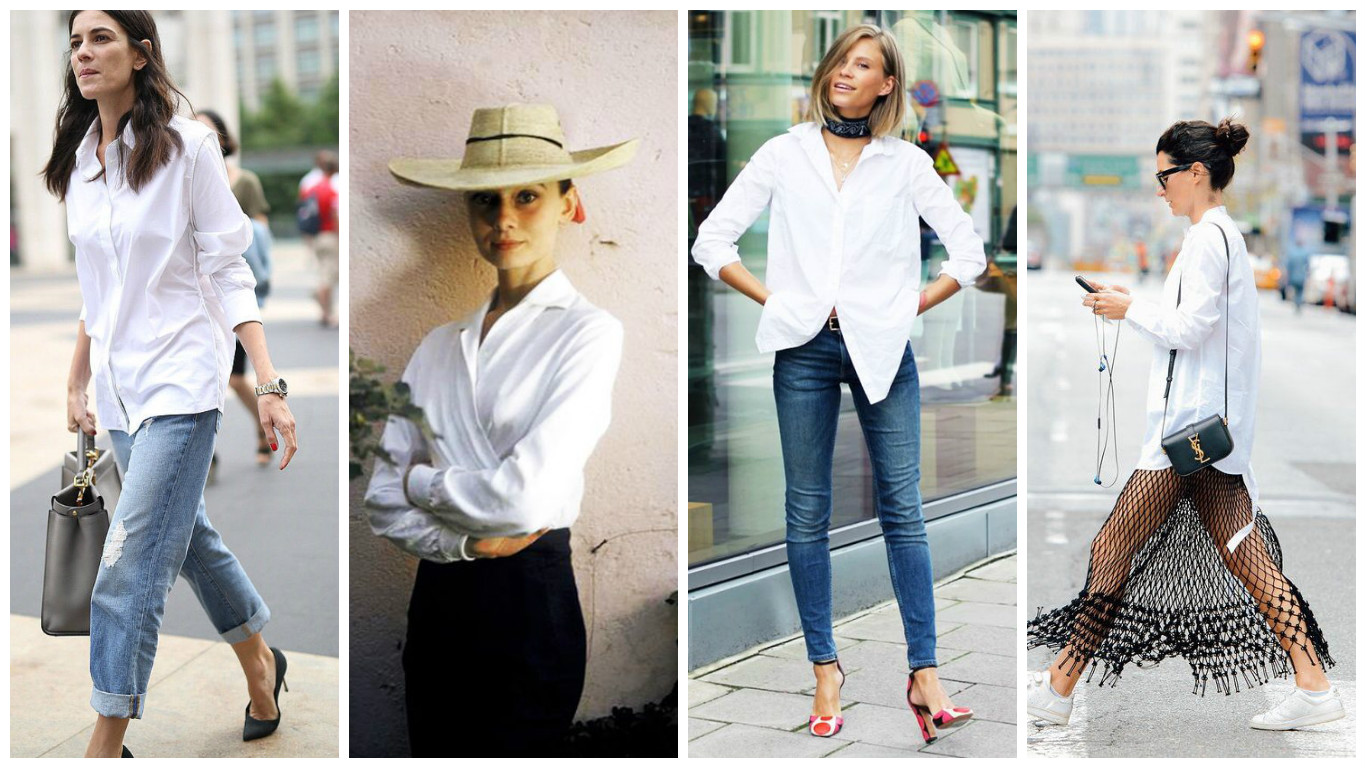 'The beauty of a woman must be seen in her eyes, because that is the doorway to her heart, the place where love resides'. Audrey Hepburn
There's something incredibly sexy about the simplicity of the white shirt worn by a woman. Is it the message of simplicity it sends, the clean aesthetic it creates, the chic vibe it channels, the versatility in how your clients can wear it, or a combination of these elements? One thing's for sure, when the humble white shirt is styled to flatter the female wearer, it looks knock out incredible!
Here are a few of our favourite white shirt combos for spring that can work for any of your personal clients no matter their age or body shape:
Plus denim jeans: This is definitely one of the easiest looks to pull off for your clients who need to rush out the door looking fabulous with minimum effort. The key is to ensure the white shirt, is slightly over-sized, relative to the size and height of the wearer. Pair with ripped, distressed relaxed fit jeans & trainers or heels for an effortlessly cool look. Or select skinny jeans and a pair of strappy heels for glamazon appeal that will turn heads, despite other high fashion contenders.
Plus midi-skirt: This is key look for spring to create easily for the warmer days to come. Combine a white shirt with neat shaping and collar, tucked into an A-line, mid-length skirt. Throw on a pair of sunnies, some simple metallic jewellery – delicate stranded styles are key, and a compact cross-body bag, or printed clutch for contemporary impact.
Plus capri pants: If anyone knew how to wear the white t-shirt, it was Audrey Hepburn. She loved to pair a slim fit wrap style white shirt with high-waisted capri style pants for an impeccable Parisien inspired look. Perfect for clients looking to ooze understated chic.
Ultimate style select – boyfriend shirt: Even guys will appreciate how incredibly sexy their women look in baggy, oversized, crisp white shirts. The key to this look is to opt for an intentionally over-sized man cut shirt, without being too slouchy so it drowns your client's shape. Partner with a slim leg jean to keep important proportion through the look, and you could even throw on a beautiful, cable knit jersey in a knocked back nude tone for the ultimate in effortless dressing!
Imagine having a job you love, that feels like you are actually being well paid for something you are passionate about! Do you adore clothes, fashion, colour, style and people? Perhaps friends and family have already complemented you on how good you look and your ability to style them? If so, you sound like you have some of the fantastic qualities that will help you to become a superb Personal Stylist and Personal Shopper with the right training. At LCS, we train our Personal Stylists to world class level with a highly knowledgeable team of industry linked tutors, Personal Stylists and guest speakers. So take the first step towards a wonderfully rewarding career choice as a Personal Stylist, and take a look at our Personal Styling Diploma.