All Articles
How to Dress Well on a Budget
4 Apr
by
Joe Miller

Guys, I know some of you must think this isn't possible especially living in the capital. We all know London is an expensive place to live, eat and shop, however being fashion savvy goes a long way to making cost effective choices.
The most popular question I receive on social media is: how can I be stylish and look great when I don't have a lot of money. I don't believe that money equals style, personally, so I'm going to share with you all my favourite places in London to shop on a budget, online shops and even vintage stores.
Fashion and investing in personal style can appear expensive but it doesn't have to be. If you love fashion, looking around alternative places that you don't shop in is usually the solution.
Style, not Fashion

Investing more money in an item that you can wear over and over again, is far wiser than buying several items because they are on sale yet are less than perfect choices! Looking stylish on a budget is all about sensible allocation of resources.
A Gent's Basic Wardrobe on a Budget: here's a handy summary of everything you need to dress well for any occasion:
Blazer: A navy blazer is essential and can be bought anywhere as long as it fits well. Check with a tailor on alterations to create perfect fit on a high street bargain that will make it ooze a heftier price tag.
Jeans: preferably medium or dark wash, no rips or bleach please! Not too baggy and no unnecessary pockets.
Khakis: flat front, any tint is fine
Button-down shirts: A white one is essential, and dark red, any blue, or a medium-to-dark green can dress up with khakis or dress down with jeans.
Black or Brown shoes: You can get more mileage out of your casual clothes by dressing them up a little with these.
Here are some of my budget tips to looking stylish and great, no matter your budget.

ASOS Flower Pin – £9
T-M Lewin Pre-folded Pocket Square– £20
Matalan Navy Knitted Tie – £6
The Basics (Knitwear, Tees, Oxford Shirts)
I want to tell you how I handle basics in my wardrobe. Basics are the foundation on which any man's wardrobe can be built from. However, basics need life to look good. Having a tight wardrobe can be manipulated in many ways if you learn how to use these few pieces effectively.
Remember to Hem (Suits & Trousers & Jeans)
The most dramatic improvement you can make in your style is to make sure everything fits impeccably. Alterations on clothing are not only inexpensive but can completely change your entire style. For example, buying a £10 navy blazer from a vintage shop and getting it altered perhaps, changing the buttons or shorten it all this factors change the style of the blazer but makes your look a million dollars. The best tips are to go to your local dry cleaners and for the alterations expert– some locals even get discounts.
Power of Details
Never underestimate the power of details – The last thing on is usually the first thing noticed.
The best way to enhance your style is by accessorising,. This adds personality to your look, be it a scarf, a subtle pocket square, or the way you tie your tie knot, perhaps a tie pin or flower lapel. These small items are usually inexpensive and wont cost more than £8 but add instant wow factor.
Look 1: Work Wear for Under £50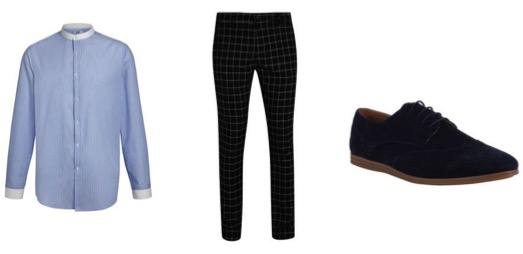 F&F Grandad Collar Shirt– £5
Topman Chino– £35
Tesco Suede Shoes – £7
Here's a perfect work wear I selected, found online. The classic white and blue granddad collar shirt is from FF Clothing, from Tesco for £5. I added a statement chino navy with white stripe trouser from Topman only for £35, with a hint of casual suede brogues from FF Clothing again for £7. The total look for this entire outfit is £47 – and we all know these days £47 usually can't buy you much, but think again because in this case it can!
Look 2: Suited and Booted Under £80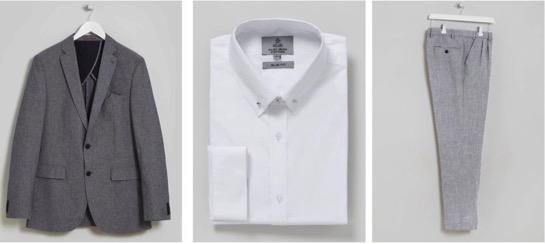 Matalan Trinity Tailored Fit Suit Jacket – £50
Matalan Pin Collar Shirt – £12
Matalan Trousers – £16
Light grey is the most versatile of all the light colours, and holds a special place in the wardrobe of any sophisticated suit-wearers as it looks expensive even if it wasn't. I picked this suit entirely from Matalan current collection. I love the suit myself and would wear it. The blazer was £50, trousers £16 and pin collar shirt £12 – with a grand total of £76 – what a bargain! What I love about light grey suits, is their versatility. They can be worn on any occasion, from the office, casual drinks on Friday (without tie), even to a wedding.
Look 3: The Black Tie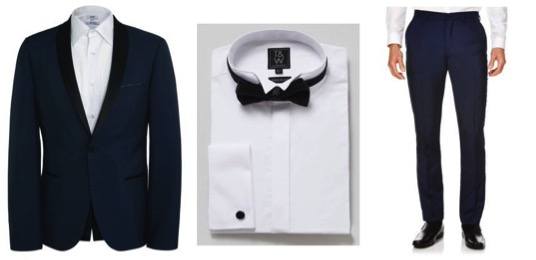 F&F Tux – £40
Matalan Shirt Set – £7
Tesco Trousers – £20
Gentlemen: There's really nothing as sophisticated as a man in black tie. Many of you will think this look will probably be the most expensive, however just wait and see. So, I opted for this slim fit midnight blue with black lapel from FF Clothing.
Blue is this year's new black. At least it is when it comes to the tuxedo or dinner jacket. I didn't want to go for the traditional black and white dinner suit which is classic. But as a fashion mister, midnight blue is everywhere at the moment from catwalk to high street. It's a formal colour with style and edge, and very Tom Ford inspired which oozes 'expensive' which I love.