All Articles
DDFC X FAD Dubai Fashion Showcase Three Fifty Nine
23 Sep
by
Joe Miller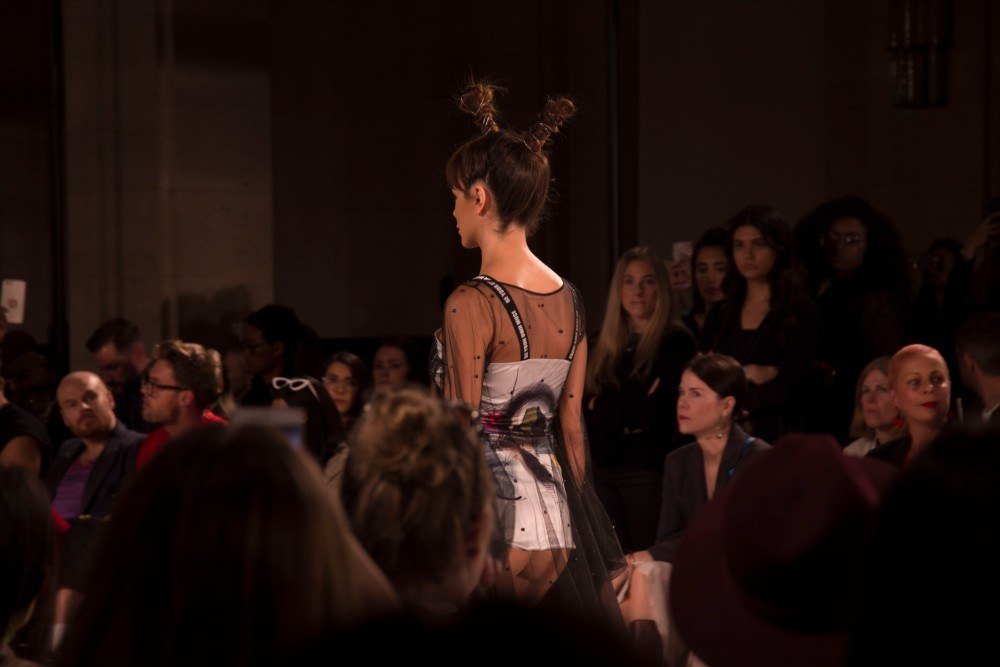 by Brittany Smerdon
Photography by Taj Minter Naughton
As I made my way up Great Queen street towards Freemasons Hall it suddenly hit me…
This would be my first proper fashion show as a guest, rubbing shoulders with so many inspirational and creative people. Before I even entered the show space I could feel the electric buzz of excitement as photographers battled to get their best shots of fashion personalities and striking street style.
However, it wasn't long before we were ushered into the hall where everyone took their seats, anticipating the start of the show. Lots of incredible creatives filled the front row, a cacophony of bloggers, musicians and media stars eagerly awaiting. One star I spotted was Izzy B Phillips, lead singer and guitarist of UK based band Black Honey, who was absolutely dressed to kill in a fun take on Ronald McDonald complete with 'Happy Meal' box bag.
The lights dimmed, and the cloud of conversation quickly cleared allowing everyone to take their places and stand in suspense. Then the show began.
The lights came up and revealed the first model walking down the runway. Bright lights shone on the crisp white cotton skirt and matching top, lined with black tape printed with bold text reading 'PERFECTION'. And that it was. The show was a beautiful collection of tailored shirts and suits, flowing dresses and crisp, sharp lines.
The designer, Marwa Sayed Abdelazim Afify, from Three Fifty-Nine bought flowing, soft femininity and paired more masculine tailoring. One perfect example of this was a beautiful fuchsia tailored suit, in which the model strutted down the runway and took off her jacket and casually slung it over her shoulder. The model gave this tailored, slick suit a bold attitude and carefree vibe. Unlike some other more whacky shows, Marwa showcased a collection that could easily be seen on any powerful professional woman strutting down the street.
The hair gave the models height, defying gravity as it sat like an antenna on the model's head giving a futuristic feel. The makeup reinforced this strong look, using bold pops of pinks and yellows to compliment the fresh white fabric and give a youthful fun feel. As the show came to an end, the final look came out. The model wore a white, fitted playsuit shrouded in a sheer black floor length dress painted with embellishment across the front. The sheer dress gave a seductive feel while the hair, makeup and petite white playsuit gave a fun, colourful feel. Overall the collection was fresh, youthful and bright, totally embodying the spirit of a lively spring.
Overall, the whole experience was incredible, and I felt so unbelievably humbled to be in the company of so many creative and beautiful people. While the show space was a familiar venue to me, I had never seen such delicate, fresh pieces walk the halls. A thrilling evening, and one I will not soon forget.
This post was written by Brittany Smerdon, who is currently doing her Advanced Fashion Styling Diploma at London College of Style. The photo credit goes to Taj Minter Naughton, Foundation Fashion Photography Diploma student. You can follow both LCS students on their Instagram at @girlwiththedots and @workingbasement_