All Articles
3 top tips to instantly advance your styling career
9 Jun
by
Joe Miller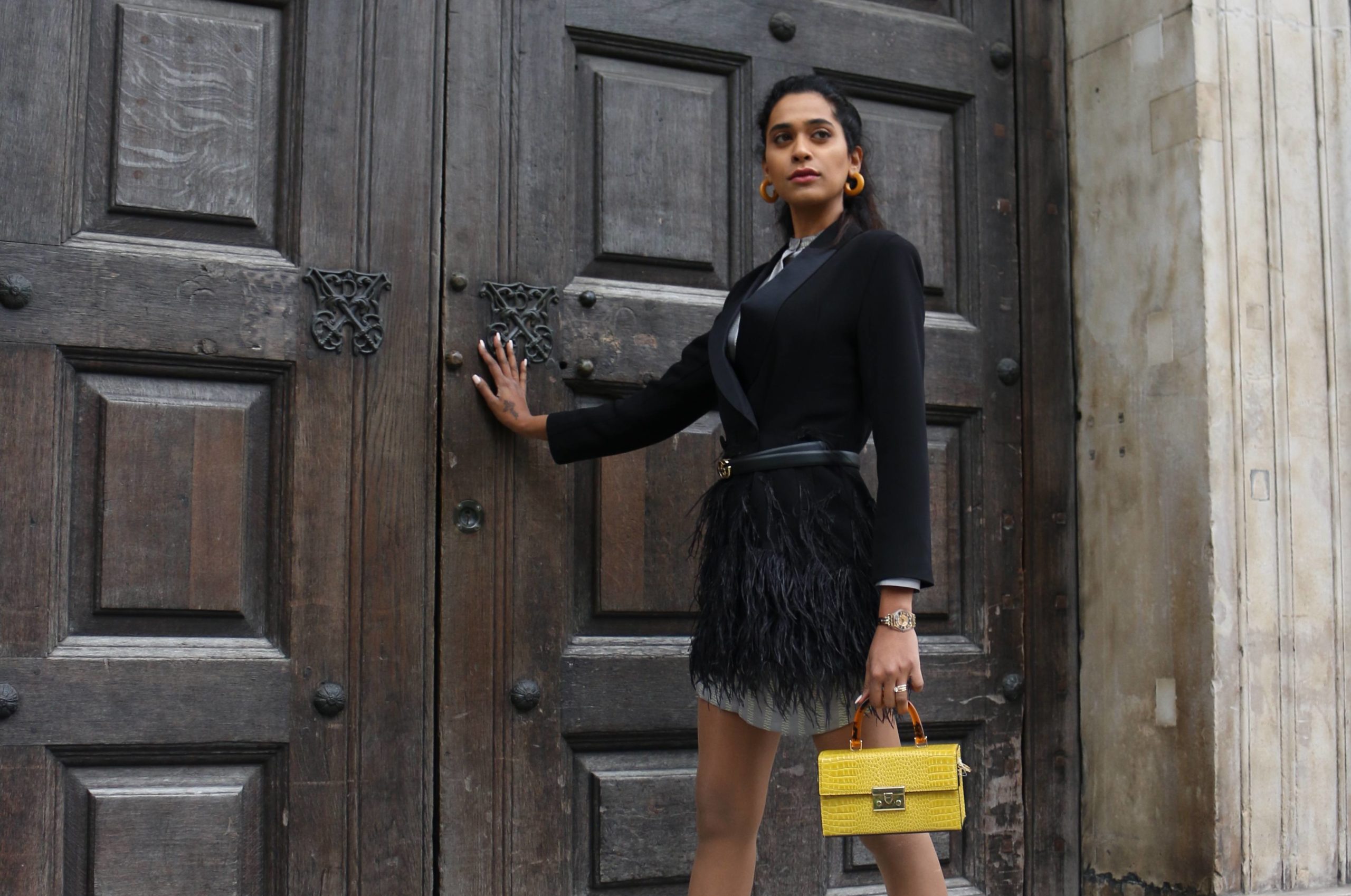 So you have what it takes to be a stylist. But how do you actually get work?
It's no secret that a good sense of style is far from being enough (even though its a good start) to turn your love for fashion into a career. You need to be driven, open-minded, a good communicator and above all, you need to constantly invent new ways to promote your business.
That's why we've put together top 3 tips that will help you advance your styling career.
1. Network
The fashion industry, like many others, is based on word-of-mouth and recommendations. The more people you know, the easier it will be for you to get hired (presumably you're good at your job of course). There are lots of fashion events out there, but also business networking events, fashion trade shows, press days… you name it. All you have to do is put yourself out there and meet as many people as possible.
It's advisable to have a business card and give it out at networking events. However, I would recommend to always take the contact details or even social media handle of the person you're meeting, on top of giving them your business card. That way you can keep reminding them of yourself by engaging with their content on social media.
2. Offer to Style Influencers
Influencers are busy people and even though they like to share their personal styling tips with their audience, I guarantee that they will love you forever if you offer to help them put together a few looks for their next photoshoot.
Always approach influencers who have at least 10k followers and a good engagement!
Also, before you start any collaboration – make sure the terms of the deal are clear. Your name should be clearly stated (ideally with a link to your website or social media) on their blog post and all their social media posts, for the looks that you helped them style. After all, this should be a win-win!
3. Model Your Own Outfits
Lastly, you can always create content by putting together an outfit for yourself. Lead by example – I would always prefer to get styled by a stylist whose outfit looks really well put together, wouldn't you?
And don't worry if you're not a model – especially if you're a personal stylist, most of the time your customers aren't models either! And isn't the whole point of a good stylist to be able to hide people's flaws and insecurities by a perfectly suited outfit?
That's why we here at London College of Style decided to take a little trip, with our own Fashion & Personal Styling Foundation Diploma students, "modelling" the outfits they've put together.
Let's have a look what they've come up with!
Tatjana from fashionartista.com
London College of Style Foundation Diploma Students
Saloni Shah
Instagram: @salonishah_official
When on a working day or just a day out why dress too formally or too simple? Dress decent but have fun dressing up is my saying towards my routine styling. So in this look I wore a semi formal dress from Zara. I love the colour olive green and specially the multi colour waist belt adding extra beauty to this dress. I decided to add a little more fun to this look by adding a pop up colour and yellow with olive green cant ever go wrong. A pair of yellow block heels and a yellow sling bag complimented the look very well. And I was ready to flaunt my style in the city and may be getting all heads turn towards me.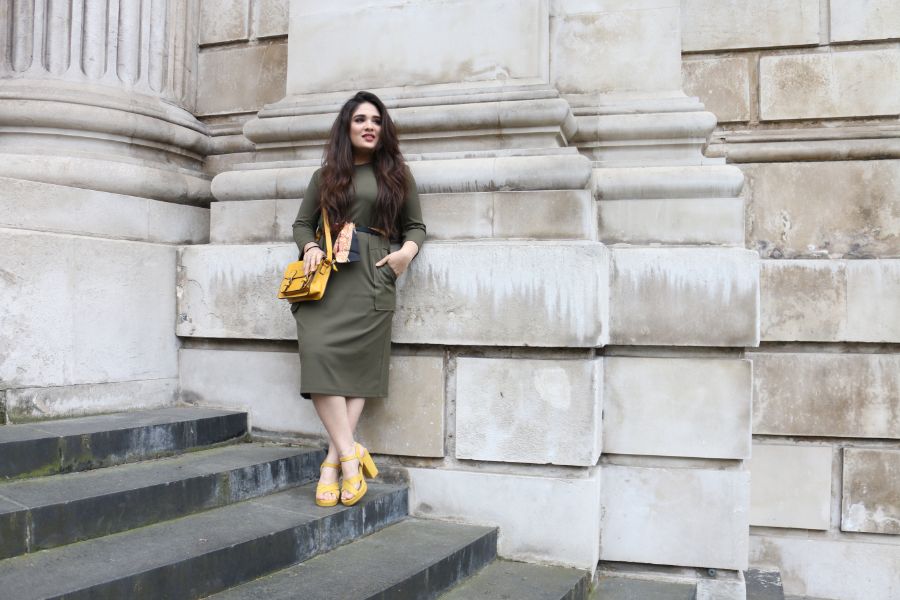 Neev Marcel
Instagram: @neevstylistalondon or @stylerneev
My inspiration behind this look was London City Girl . I have layered a silk dress from Reiss inside and over that a Black blazer dress and court shoes giving a chic formal office city look. A hint of colour pop with a autumn yellow box style purse just to give it that edge and to break the grey black monotones of St. Paul's Cathedral and typical grey city backgrounds.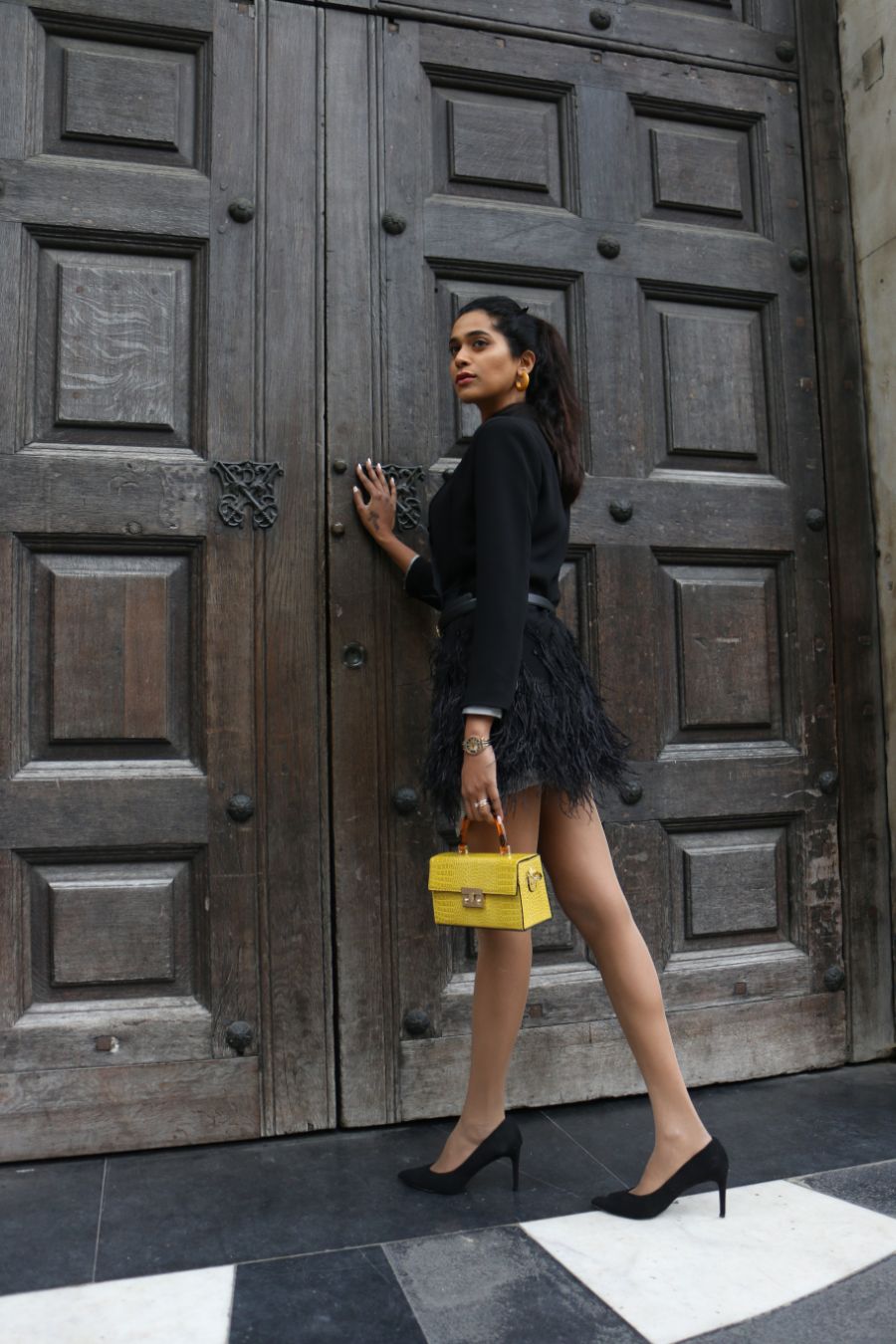 Melina Bailey Harris
Instagram: @melinabaileyharris
Inspired by the Mary Quant exhibition at the V & A, I decided to wear my black PVC Mac with black and white clothes and accessories for a cool monochrome look.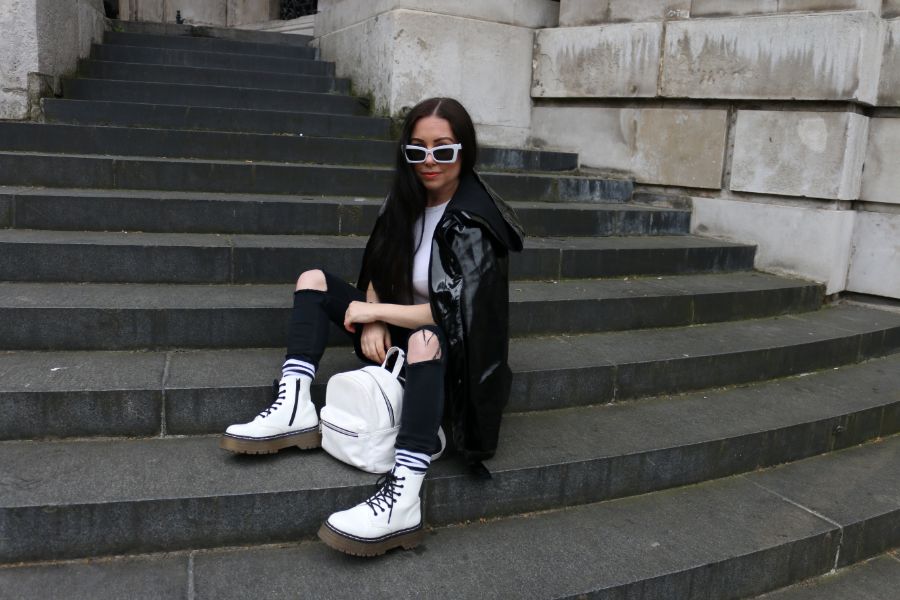 Temilola Adeleye
@temilolawonder
A casual look; white shirt and ripped black jeans with brogues
I decided to style this look with an Ankara Kimono Jacket. Ankara is the popular name for African print fabrics in Nigeria. It is known for its richness and versatility.
The Kimono Jacket can be styled up in different ways; with a pencil dress, court shoes or sneakers and a belt.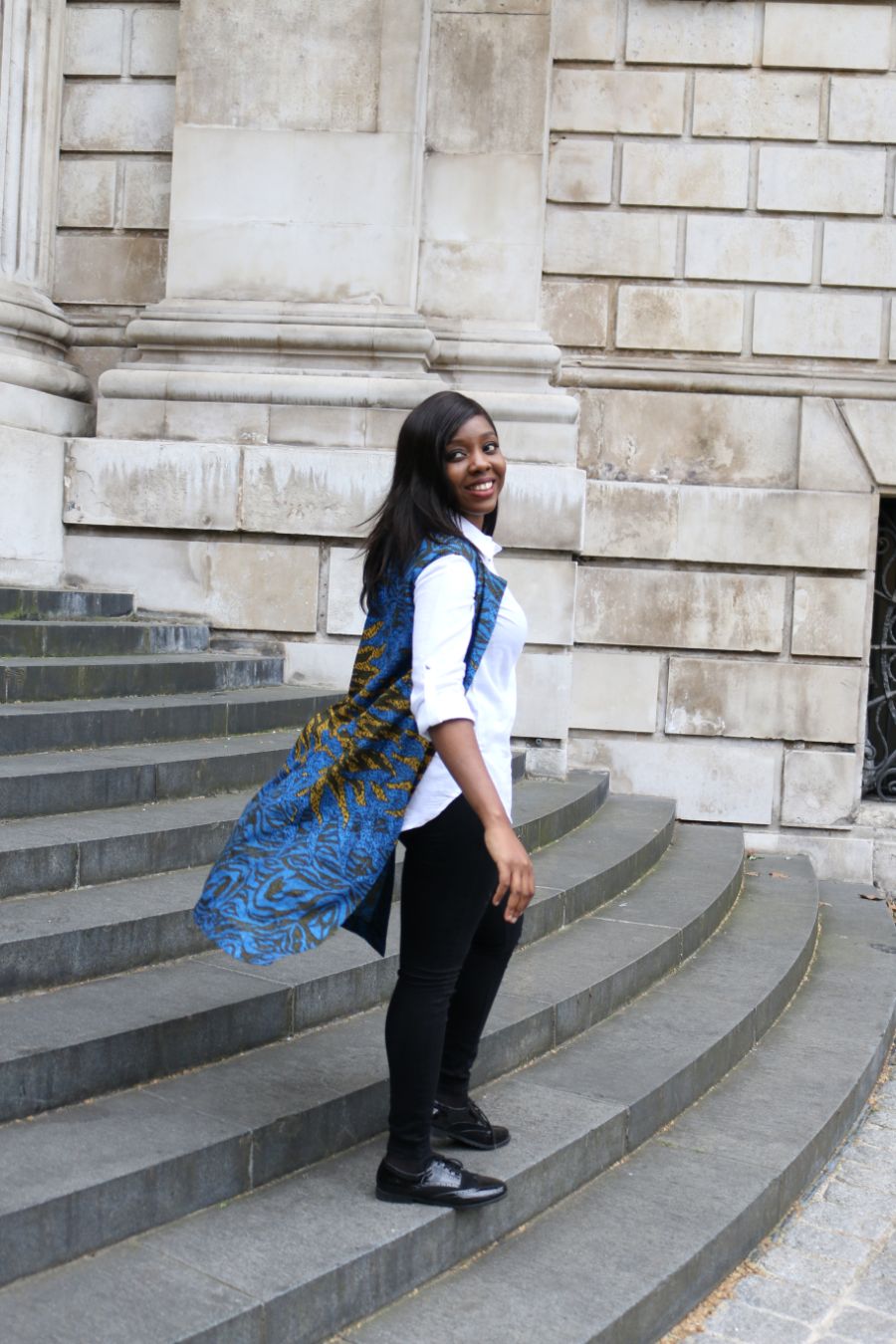 Gestine Bondad
Instagram: @stylebygestine
The inspiration behind this outfit is the 90's with a touch of city chic for a timeless look.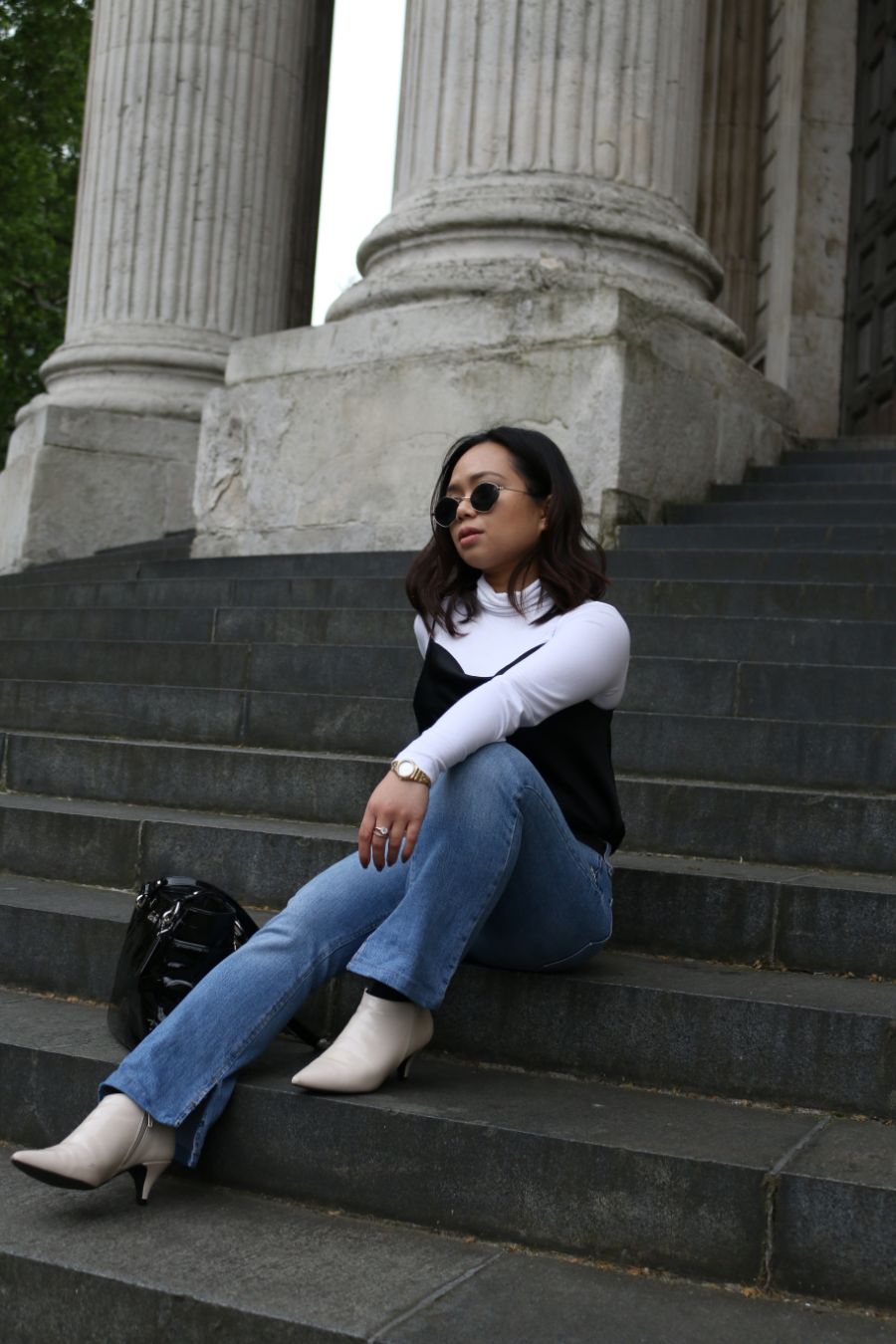 Valentina Castellani
Instagram: @valentinacastellani and @valentina_styling
I love colours a lot, but with time I realised that black is the colour I feel more comfortable wearing. I still like to put together interesting outfits so I usually layer clothes. I specifically picked this outfit because I wanted to wear comfortable clothes while still looking nice, so I wore an oversized t-shirt and a stretchy skirt with a lovely suit jacket. Perfect combination for any occasion!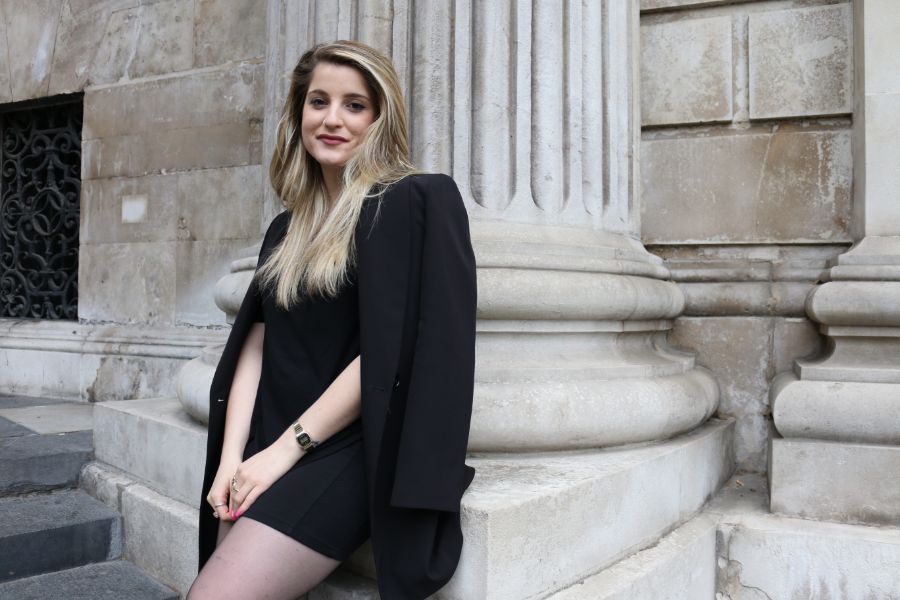 Rhya Cintury
Instagram: @Rhyia_c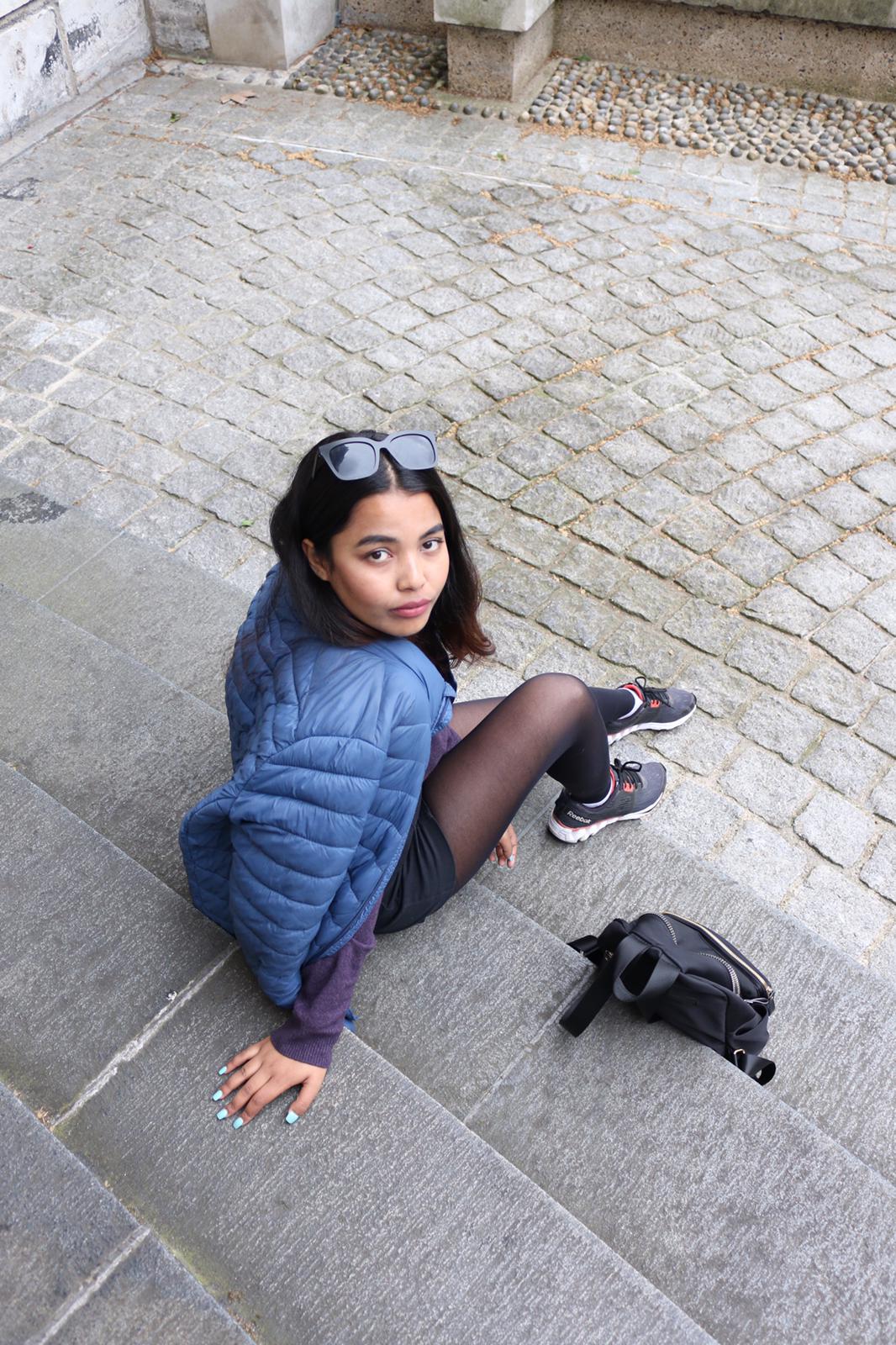 Roxana Behrozi
Instagram: @roxana_behrozi