All Articles
LFW SS19 – Colour Mania at DB Berdan
19 Sep
by
Joe Miller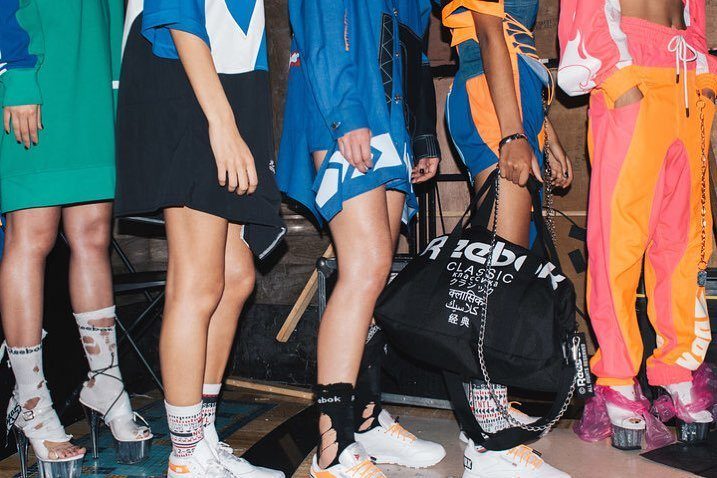 On September 16th, the London-based fashion label DB Berdan debuted their Spring / Summer 2019 collection at London Fashion Week.
DB Berdan's show was thrilling before it even started. As soon as you walked up the stairs and through the grand entrance inside Freemasons' Hall, you knew you were in for something special. Surrounded by effortlessly edgy sneaker heads and streetwear lovers, the bustling atmosphere was filled with colours, big smiles and looks of excitement for what was to come.
THE COLLECTION
The first model emerged from the darkness wearing a cropped, logo-printed tee paired with a long skirt featuring mix-max patches of pink, blue and orange. The look was completed with Reebok socks underneath platform PVC stilettos and chunky jewellery. The model didn't just walk down the runway; she fiercely strutted to the booming French rap music that made everyone in the room want to get up and dance along side her.
DBX and Reebok logos were seen everywhere. Flared, front-slit trousers with dangling chains were paired with cropped pinstripe shirts. Asymmetric, patched denim skirts complimented electric blue and orange trousers that were deconstructed into off-the-shoulder tops. Pink and orange windbreaker-dresses featuring interwoven front strings were seen with a long demi-face mask. The unconventional juxtaposition of colours and fabrics was done to perfection. Everything one wouldn't expect to work, worked.
SS19 TRENDS
DB Berdan's collection flourished with their array of bright hues. Everything your uber-cool hype beast would want for spring / summer was presented on the runway. Anyone who ever doubted that hype and goth could go together, let alone be perfectly balanced with neon colours, was proved wrong. Innovative, original and completely out-of-the-ordinary, DB Berdan took streetwear to the next level. To all the the loud, in-your-face creatives, the outsiders who stand out in any crowd and the bad b*tches with attitudes, we recommend getting your credit cards out.
This article was written by Isabel de Carteret. Check out her Instagram @isabeldecarteret or @isabeldecarteret.styling for more exciting fashion adventures!