All Articles
LCS Foundation Graduate Harsha Sadhnani Tells Us Her 5 Top Trends For AW16
6 Sep
by
Joe Miller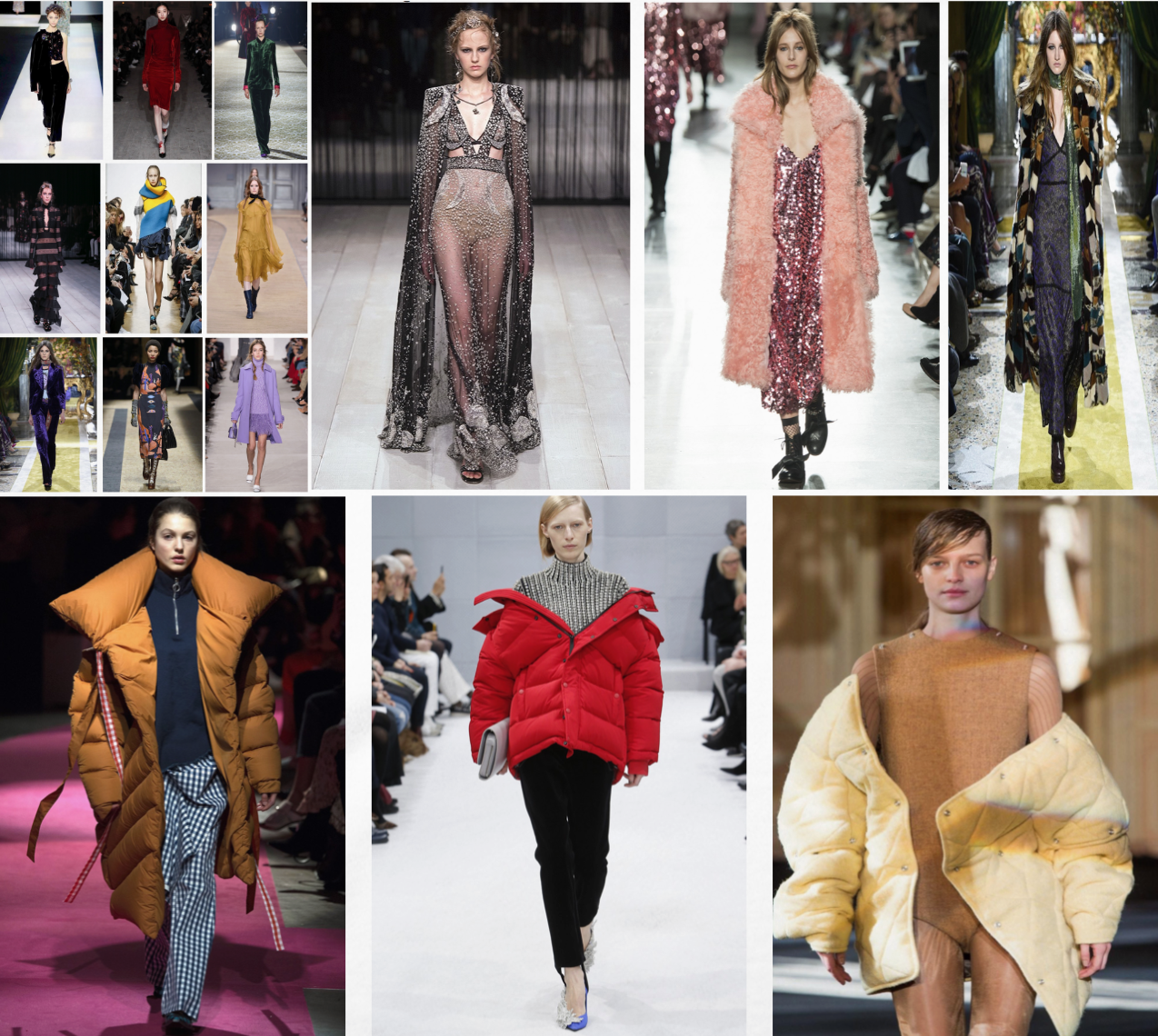 My name is Harsha Sadhnani and I'm a former Google executive turned stylist following my passion for fashion. I recently completed my Fashion and Personal Styling Foundation Diploma at London College of Style. It's an absolutely amazing experience as it links you in with some of the best industry professionals giving life to your styling passion and craft. It's incredible that you finish the course with so many takeaways in such a short time.
One of the key learnings from the course was that it's important to be linked into industry, and stay up to date with the new season's trends. For decades cinema, art, history, and economics have influenced fashion and vice-versa, influencing to the ever-changing trends and designs. The beauty of styling is to be able to translate these catwalk trends into wearable looks that are sometimes trend relatable yet always 'very you'.
Most fashion houses globally launch their seasonal collection twice a year. The new autumn/winter 2016 collection embraces romance and glamour. With the lovely autumn approaching soon, here are the top 5 fashion trends you need to know to create your own unique style with a nod to trend if it takes your fancy.
1. VELVETY VIBRATION
Velvet ruled the AW16 runway. The luxurious fabric will make you feel plush this season. Wear it head-to-toe, knee-length, as a dress, top, or a suit, you'll not only look like million bucks but also stay warm on icy nights. All you ladies out there, get ready to paint the town red velvet. You will find velvet in-store already at zara.com, topshop.com
Left to right: Emporio Armani, Y/Project, Haider Ackermann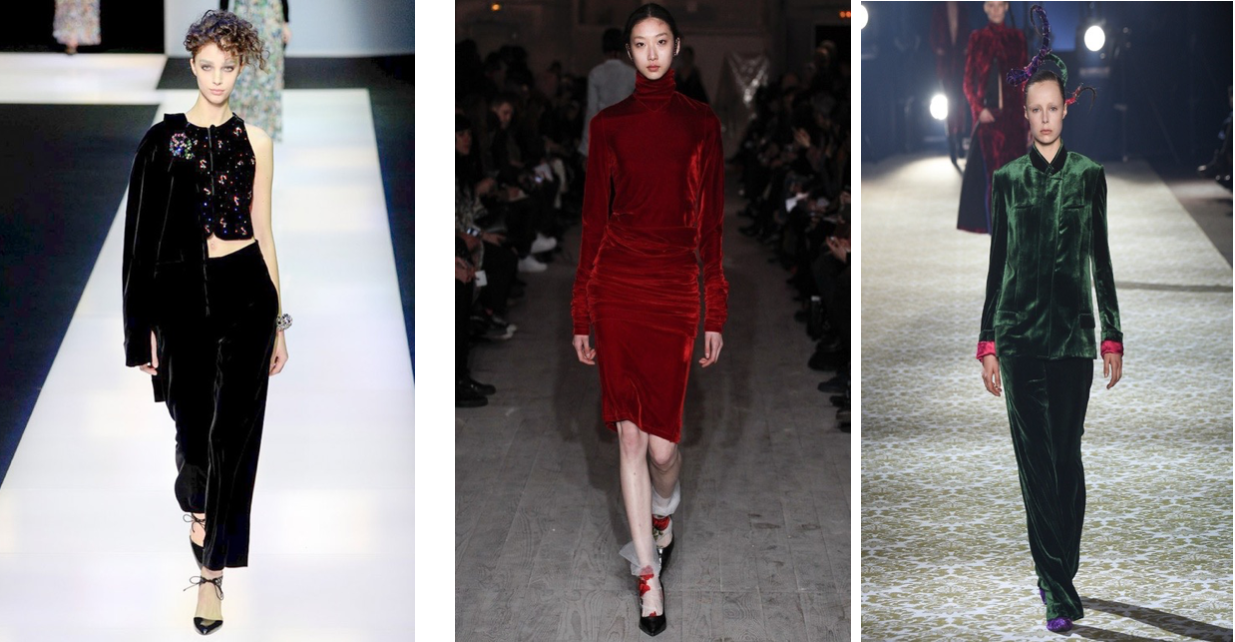 2. SHINE ON
A glamourous night out is incomplete without sequins and glitter. Let go of your fear of shine and go all out this season. The AW16 Alexander McQueen collection reminded me of a sky full of stars and moon sparkling. You can wear a sequinned dress in a colour you love on its own or layer it up with a coat as seen at Preen, or add a statement scarf if you'd like to pump up your relatively plain outfit. Dazzle your way through the winter and enjoy every second of it. Sequins can be found at Topshop.com, missselfridge.com
Left to right: Alexander McQueen, Preen, Roberto Cavalli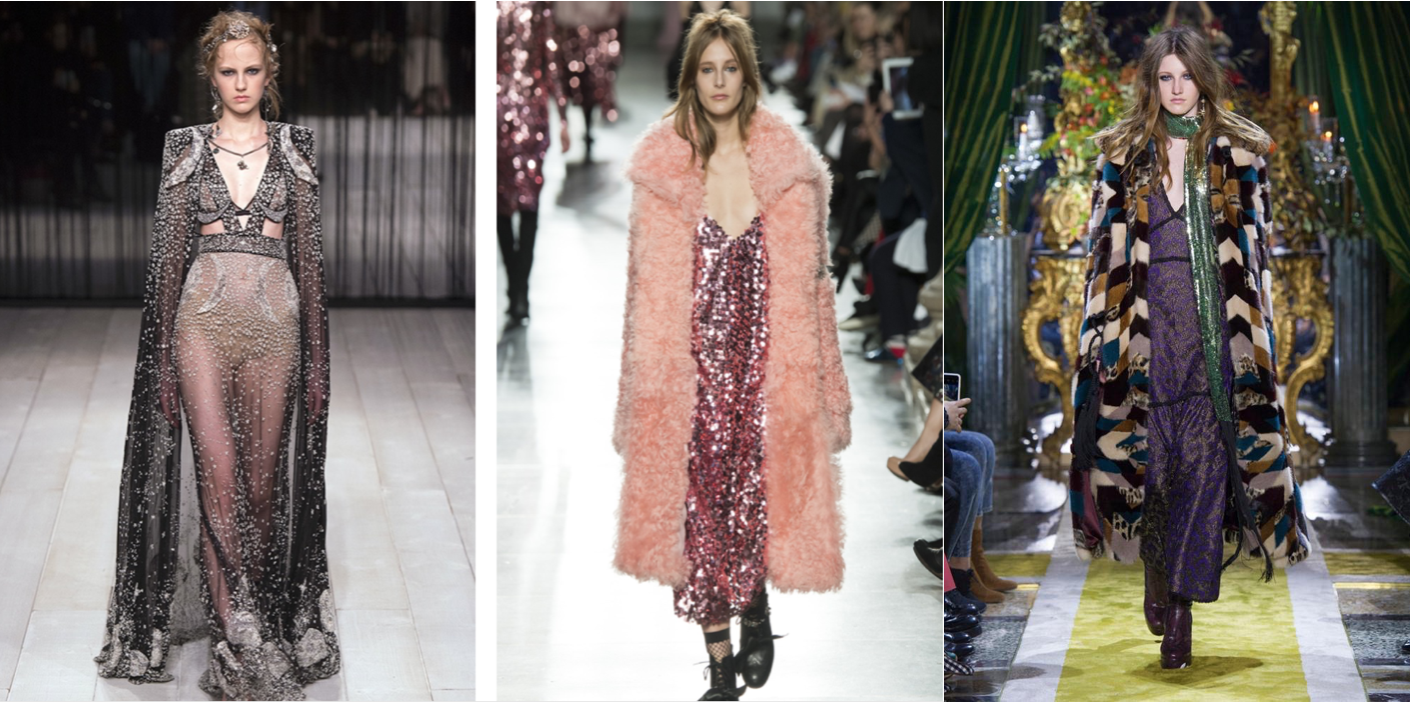 3. PURPLE PASSION
Purple is often associated with royalty, luxury, and power. It was the DOMINANT colour on the runway this season and used in different ways and tones. Roberto Cavalli's collection infused the rich shade in fancy fabrics like velvet, while Prada's prints had traces of the hue. You can wear it top-to-toe if you're feeling bold, mix it with another colour, or pop it on as an accessory! Whichever you decide, make sure you've got your something purple ready for the season. You can find purple pieces at ASOS.com, Riverisland.com
Left to right: Roberto Cavalli, Prada, Michael Kors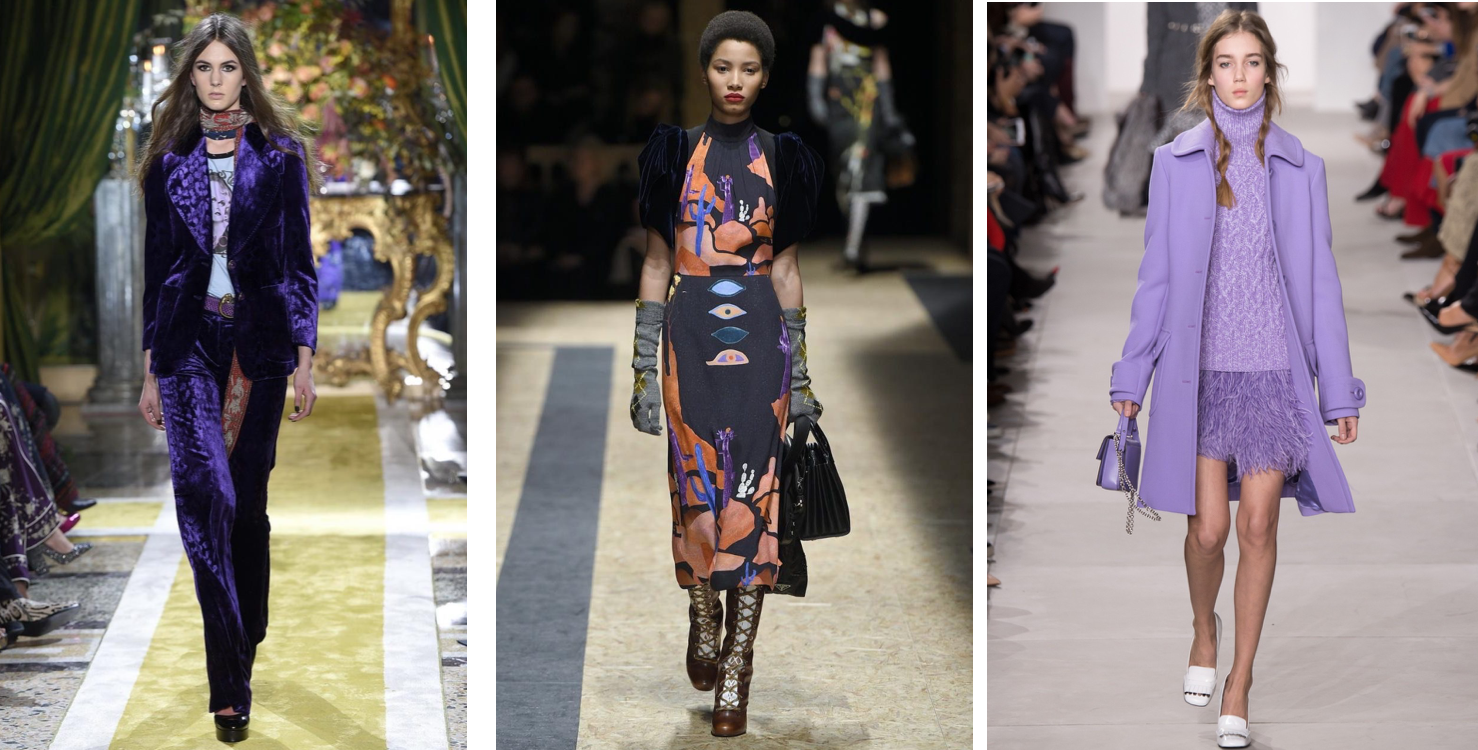 4.RAVISHING RUFFLES
Ruffles and frills can lift a plain outfit instantly, and this season you'll see them on hems, collars, sleeves, and even accessories. This is one of the most fun trends continuing from spring/summer 2016. For autumn/winter, they are heavier, keeping up with the time of the year, playing with volume and texture. J.W. Anderson's designs displayed a modern edge on the trend, while Chloe's collection showcased its romantic gene. You can find them at Frenchconnection.com, whistles.com
Left to right: Alexander McQueen, J.W.Anderson, Chloe,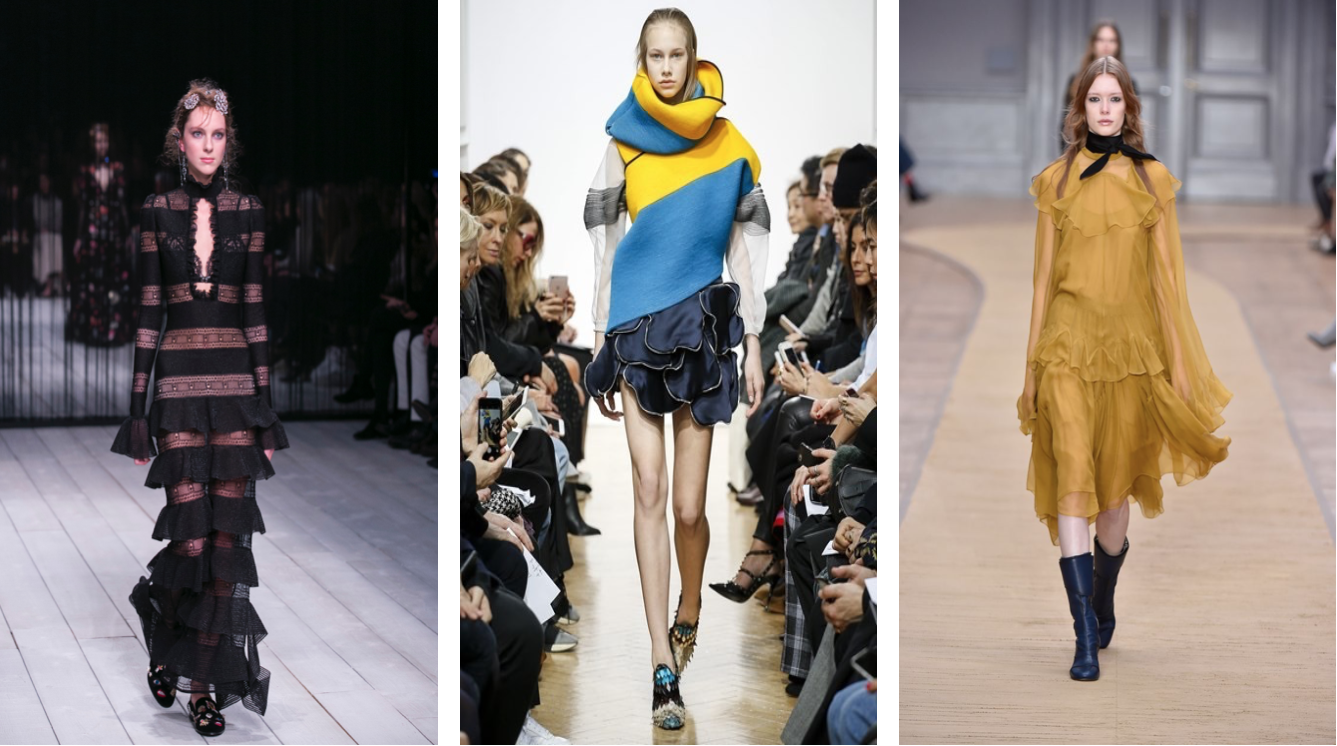 5. OVERSIZED OUTERWEAR
Lastly, reviewing the season's practical and pretty important piece of clothing – coats. Like every autumn/winter, a great collection of outerwear was showcased on the runway except the coats were, well, way bigger and bolder. Supersized, elongated, puffy sleeves created a relaxed silhouette for an effortless laid back look. You can style it up by not wearing the sleeves all the way up to the shoulders, or by forming a sweetheart neckline over a warm turtleneck. You can find them at warehouse.com, Urbanoutfitters.com, cosstores.com
Left to right: Marques'Almeida, Balenciaga, Acne