All Articles
BALENCIAGA – "Shaping Fashion"
4 Jun
by
Tatjana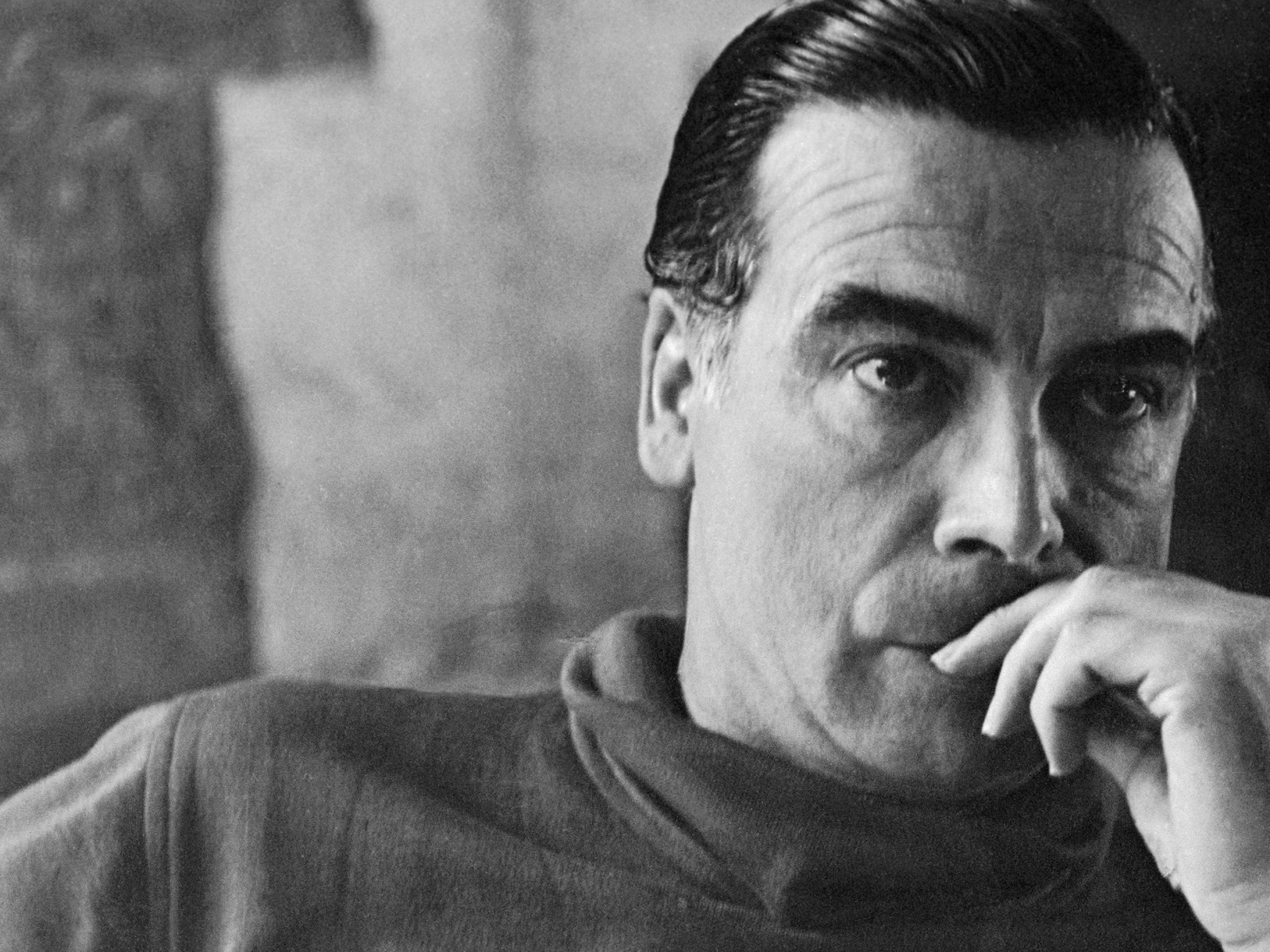 We, the students at London College Of Style had the brilliant opportunity of attending the Balenciaga – Shaping fashion exhibit at the Victoria & Albert Museum. I will take you through my entire experience at the exhilarating exhibit.
A visionary, a legend & a couturier par excellence CRISTÒBAL BALENCIAGA was born in 1895 in Getaria, a fishing village in Spain. He was introduced to fashion by his mother who was a seamstress. At the age of 12 he began an apprenticeship at a tailor's in San Sebastian. Ten years later, he opened his first fashion house in 1917.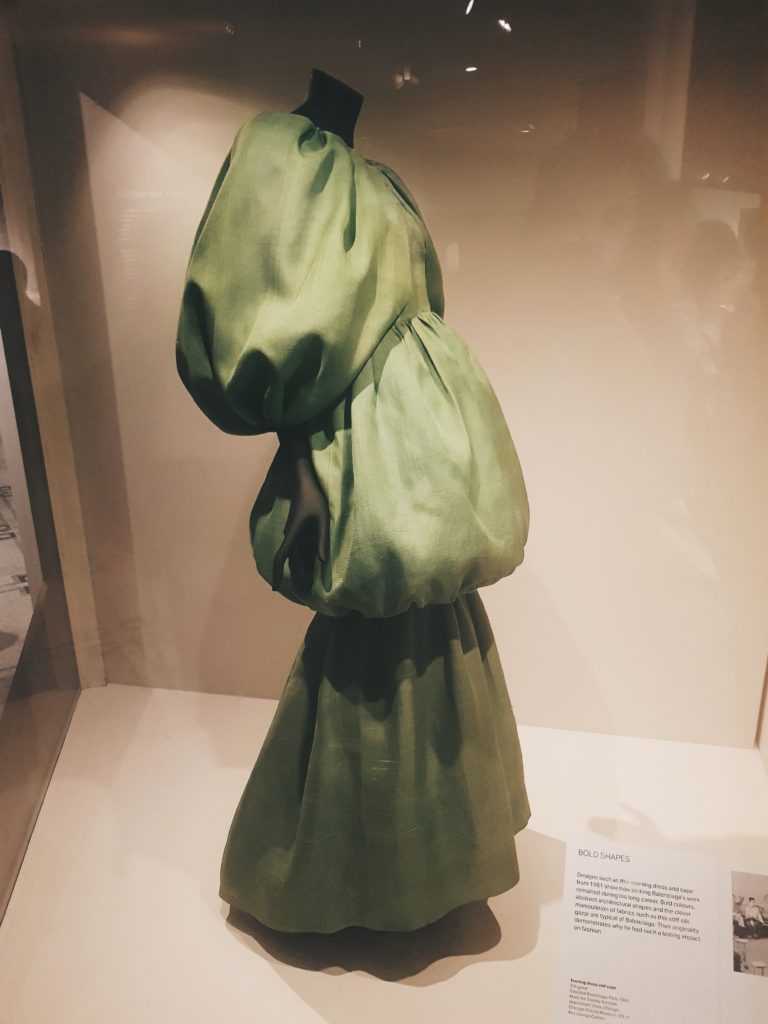 BOLD SHAPES, ABSTRACT STRUCTURES
Balenciaga was never afraid to play with bold shapes & abstract structures along with a clever manipulation of fabrics. This beautiful & unusual evening dress with cape crafted in gazar silk 1961, for Stanley Korshak department store sums it all up.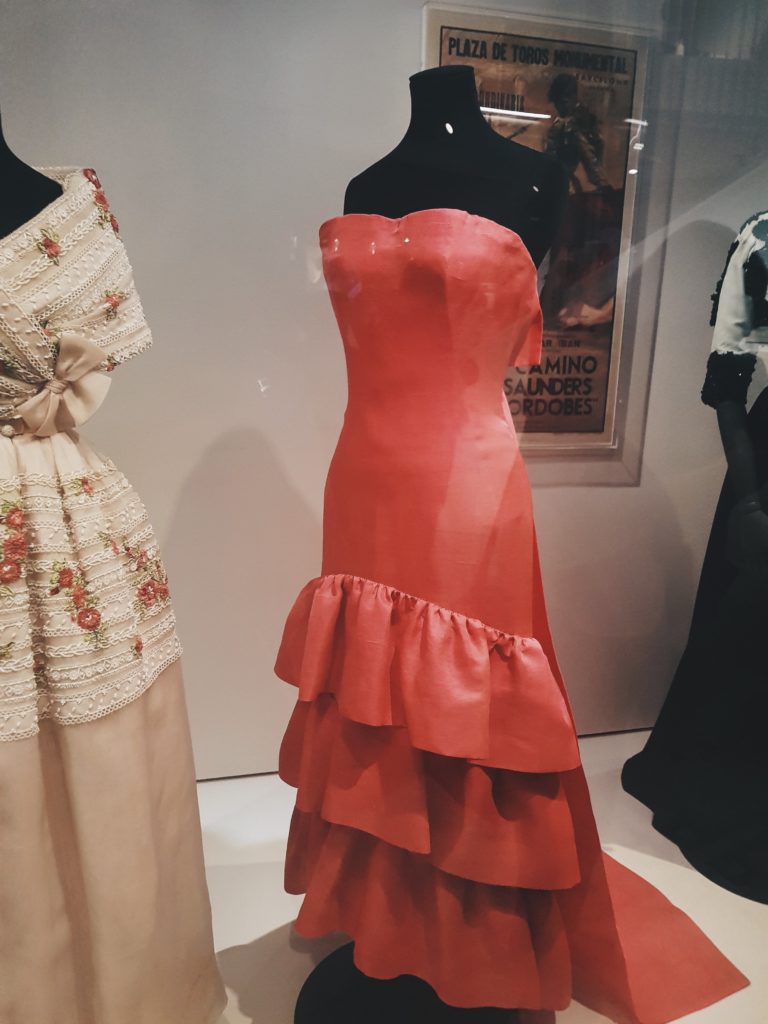 FLAMENCO DANCING
Spanish flamenco dancing inspired many of Balenciaga's designs. The traditional bata de cola hugs the dancer's upper body while the skirt's many flounces exaggerate her movements. Here, Balenciaga used just three flounces & lengthens the train with a separate flounce at the back. Evening dress in silk gazar, 1962.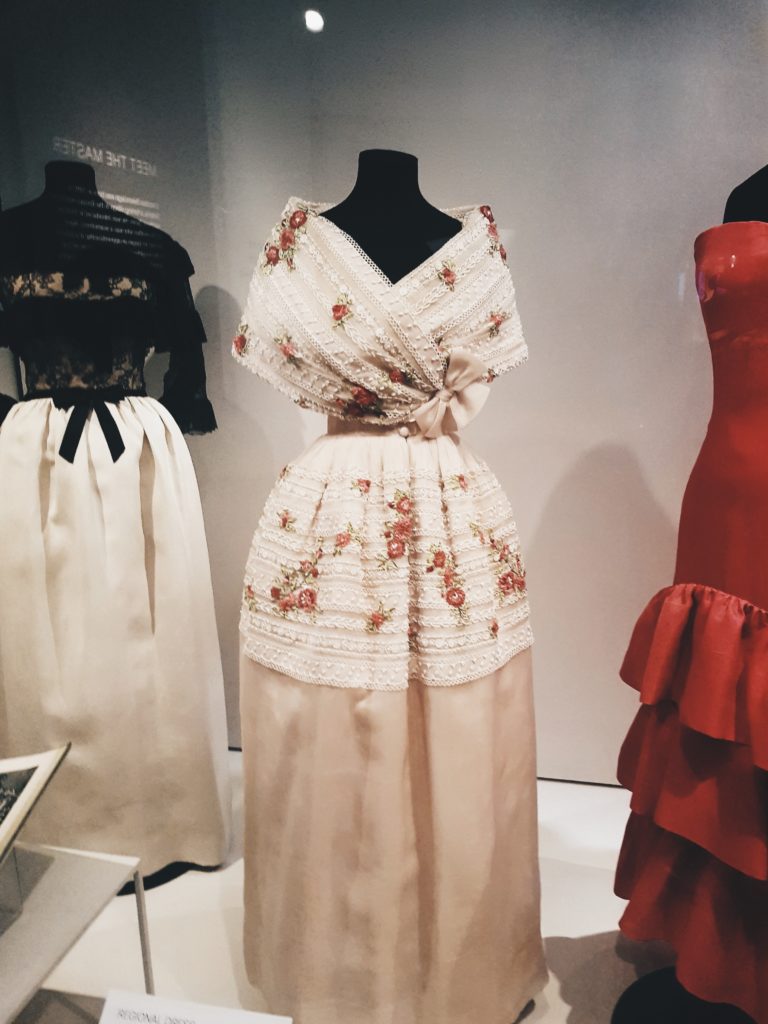 REGIONAL DRESS
Spanish costume was a recurring influence on Balenciaga. He owned Isabel De Palencia's anthology of regional costumes. This evening gown made for goood friend Francine Weisweiller shows a debit to Valencian dress. Evening dress in silk organza with embroidery, 1960.
"A couturier must be an ARCHITECT for DESIGN

A SCULPTOR for SHAPE

A PAINTER for COLOUR 

A MUSICIAN for HARMONY and

A PHILOSOPHER for TEMPERANCE" 

– Christobal Balenciaga
This is exactly what made him unique. Balenciaga was enthusiastically involved in every aspect of dressmaking. His designs always reflected his firm understanding of structure, attention to detail & a fabric's inherent qualities. His drapes skimmed rather than hug a woman's body which made them appropriate for women of all sizes.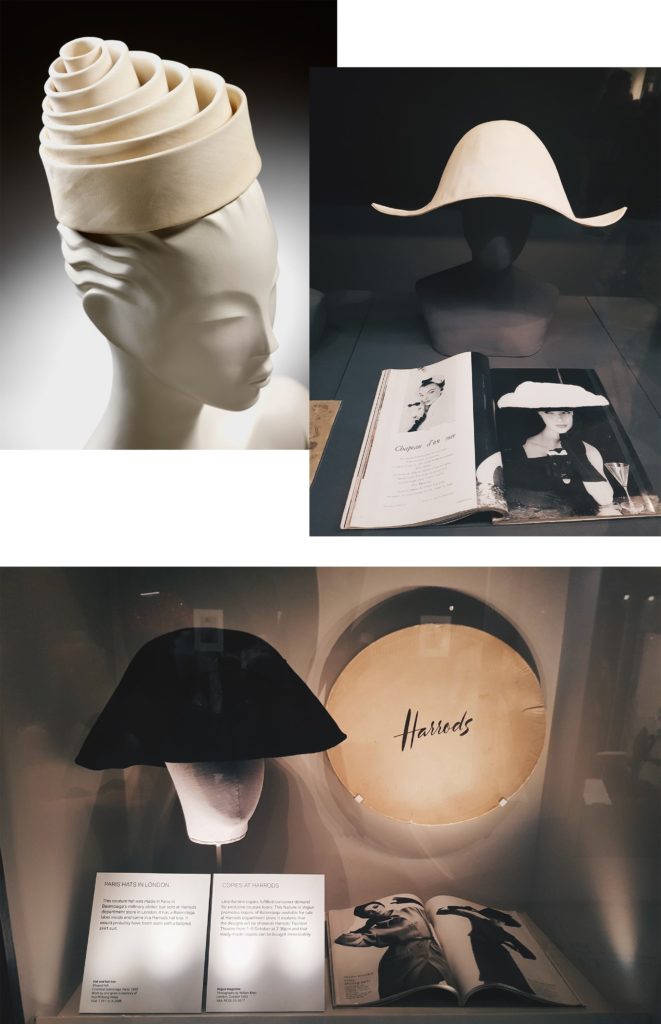 STATEMENT HATS
Balenciaga's hats are an integral part of fashion. They were some of the most elaborate in Paris. in the 1950s & 1960's they grew more surreal as they played with scale, shape & unusal materials. The then police commissioner stamped the official sketches so they wouldn't get copied. Buyers around the world wanted his collections at their stores. In the picture above (Harrods)
"ALMOST AIRBORNE"
…was how Vogue described this historically inspired evening dress. Taffeta as thin as paper, shaped into harem skirts. The sinful & artistic drapery stole my heart.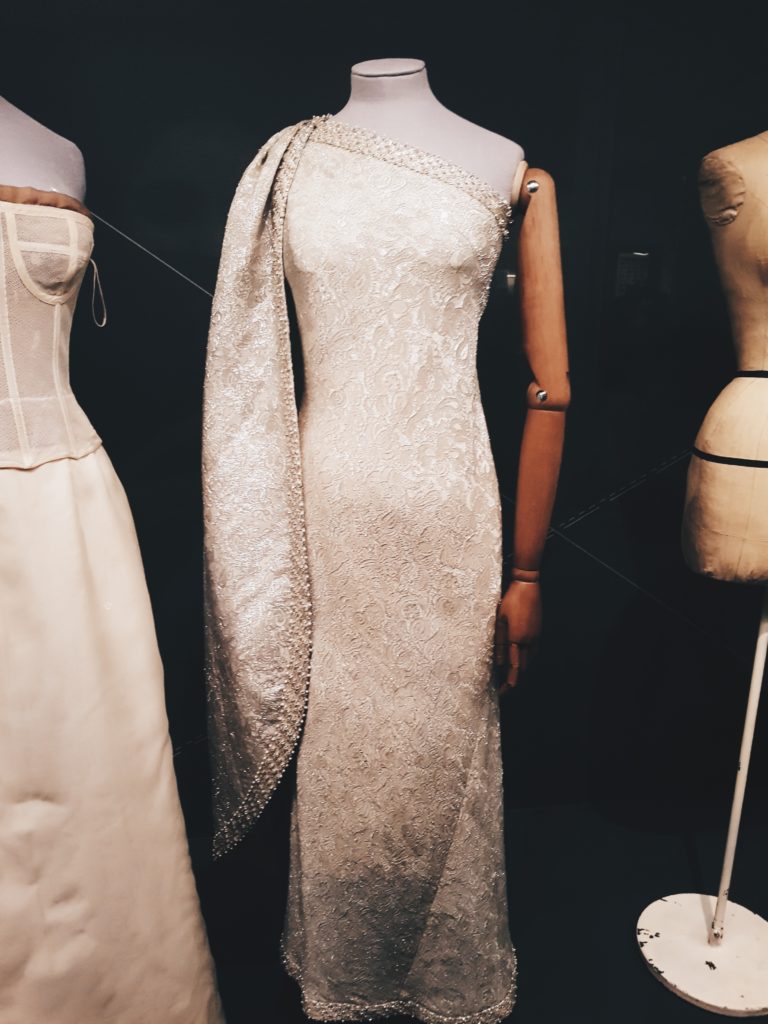 THE SAREE DRAPE
This was a very proud moment for me as Balenciaga drew inspiration from my homeland, India. A saree is a traditional Indian outfit made from a single fabric & pleated on the waist & shoulders. He made several versions of his saree dresses.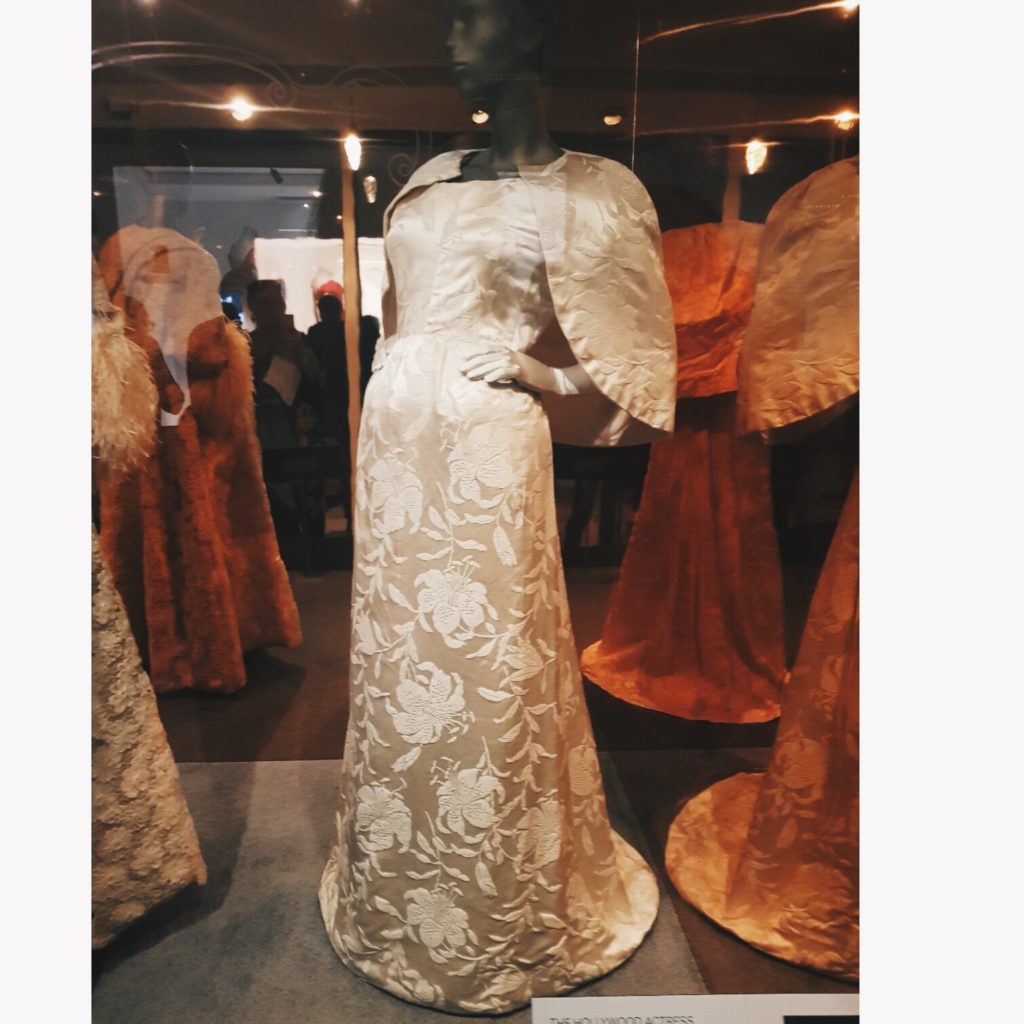 Hollywood actress Ava Gardner donated this gorgeous evening gown & cape in damask silk by Balenciaga handcrafted in 1960 to the V&A Museum.
Balenciaga was a visionary like no other. He created such a powerful impact on the world of fashion that for decades to come fashion designers were inspired by his genius & still continue to do so. He dared to experiment & think beyond the confines of what was acceptable unlike any other couturier of his time. His contemporaries admired him immensely & had utmost respect for his work.
"HAUTE COUTURE IS LIKE AN ORCHESTRA,

FOR WHICH ONLY BALENCIAGA IS THE CONDUCTOR.

THE REST OF US ARE JUST MUSICIANS,

FOLLOWING THE DIRECTIONS HE GIVES US."

– CHRISTIAN DIOR
A lot of popular designers that have taken influence from Balenciaga are Nicolas Ghesquiere (worked at Balenciaga for 15 years) Roksanda Ilincic, Oscar De La Renta, Issey Miyake, Alexander McQueen, Sybilla to name a few.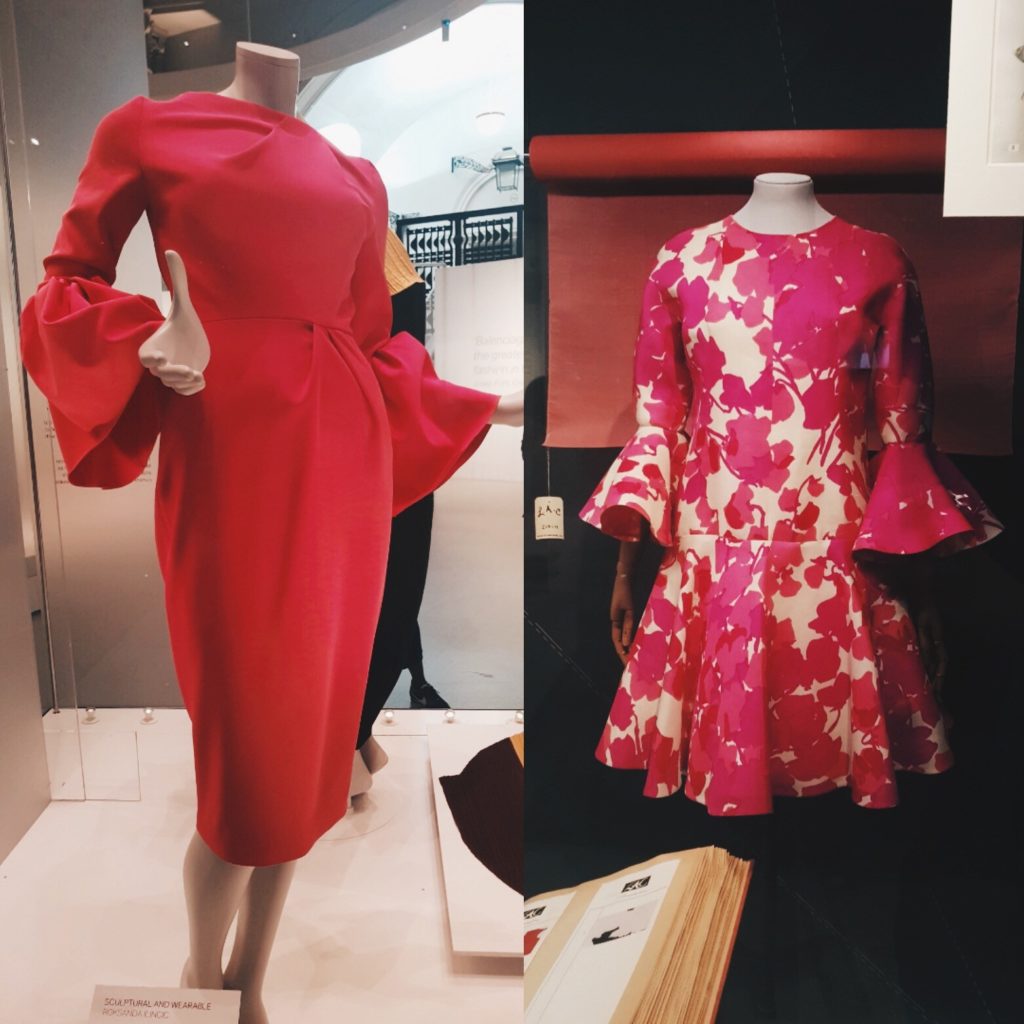 Roksanda Ilincic (left ) Spring Summer 2012 dress has a striking resemblance to Balenciaga's (right) Lantern sleeves dress 1968. Just like Balenciaga, British designer Roksanda also loves dramatic designs with bold colour blocking which are wearable.
"BALENCIAGA IS THE ONLY DESIGNER
WHO DARES TO DO WHAT HE WANTS"
– ELSA SCHIAPARELLI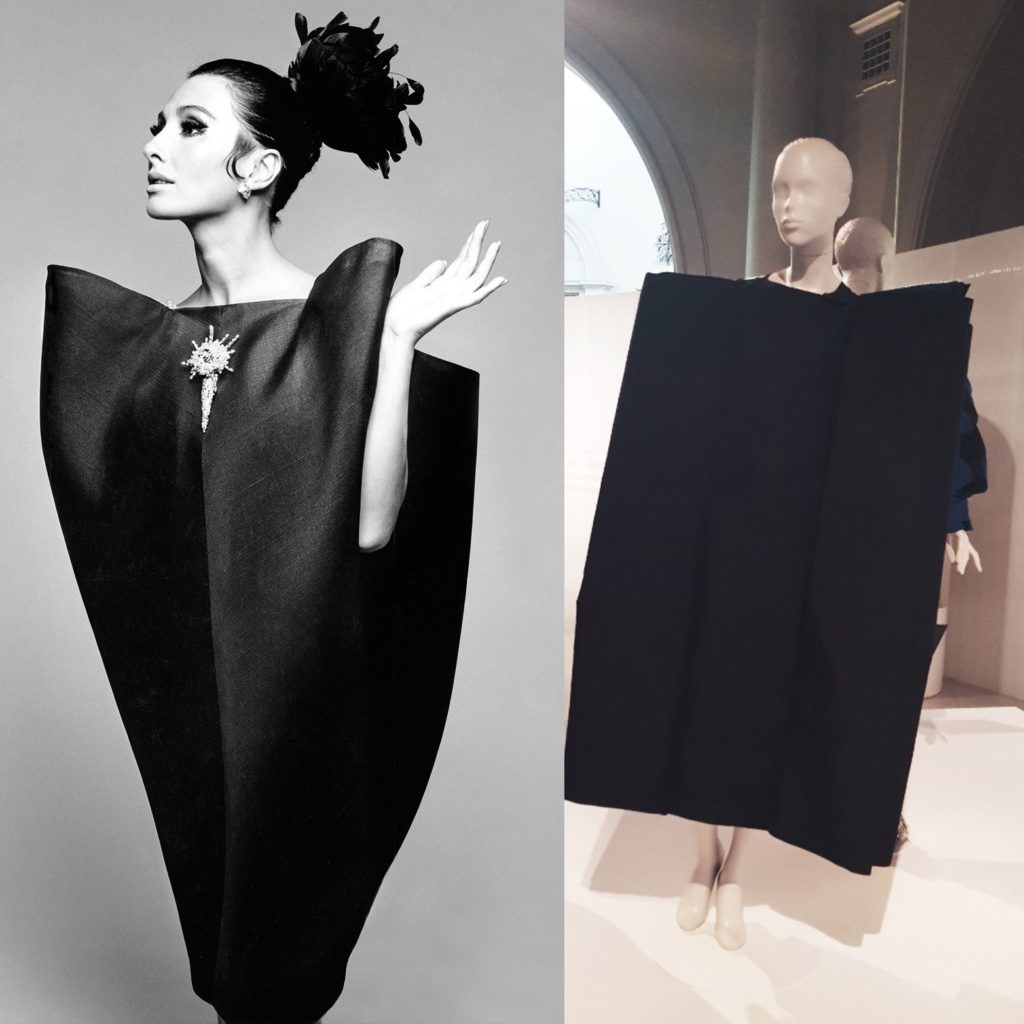 "PUSHING THE ENVELOPE"
Corrie Neilsen's Spring Summer 2013 dress (right) draws inspiration from Blaenciaga's four point envelope dress 1967 (left). Corrie loves playing with structures & abstract shapes just like Balenciaga.
It was a very enriching experience for me. If you are in London & are a fashion connoisseur I would suggest you to visit the show. Hope you guys enjoyed the excerpts from the show.
Stay stylish. Love, Jess !!!
PS: I'm currently doing my Foundation Styling Diploma at London College Of Style.
Feel free to check out my blog: Just Jess