All Articles
20 sustainable brands you need to know about
12 Mar
by
Lucy Morgan
The outbreak of Covid-19 has forced the fashion industry to slow down and, at last, reckon with its impact on the environment. While the excesses of the industry had previously been dismissed as a necessary sacrifice in the name of luxury, increasing consumer demand for transparent, sustainable fashion is shifting brands' priorities.
Below, we round up some of the most exciting, innovative brands who are leading the way in promoting sustainability across the industry, showing that you don't need to compromise on style to do your bit for the environment.
From slow fashion pioneers such as Olivia Rose The Label, Osman Yousefzada and Mother of Pearl to emerging, independent brands including Yam and Brave GentleMan, here are London College of Style's top 20 sustainable brands you need to know about.
Wray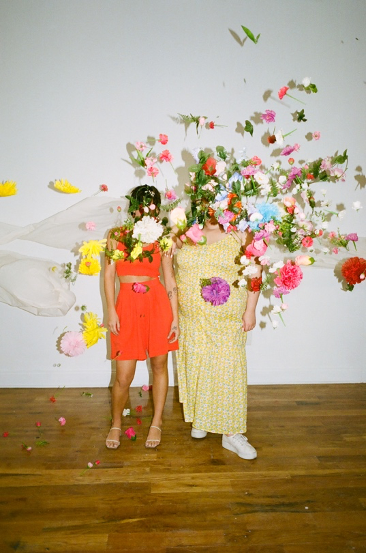 Think sustainable fashion is all linen and sandals? Think again. Wray's collections are audaciously maximalist, with the boldest of patterns: from playful chequers to acid florals. Everything made by the NYC-based brand is 'constructed to last' and sourced responsibly. Wray use a closed-loop production, which means any waste generated from the production of their garments is recycled to create new products. Moreover, Wray's pieces are available up to 5XL, ensuring plus-size consumers aren't excluded.
2. Collina Strada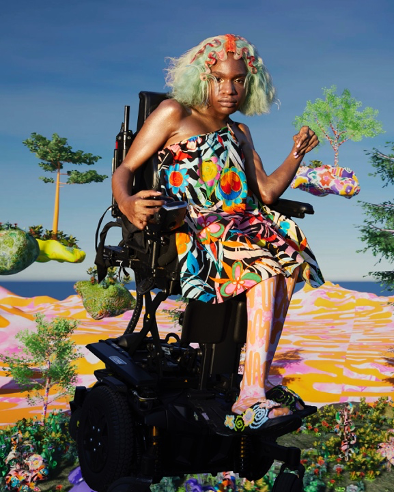 Collina Strada produces fluid, introspective collections against a backdrop of social justice. Created by Hillary Taymour, the brand is committed to being 'fully sustainable' and radically transparent' and was featured in Gucci's film festival GucciFest. Collina Strada have collaborated with The OR Foundation to reduce textile waste in Ghana (according to Taymour, 15 million items of clothes are shipped to Ghana each week) and use rose petals and dead stock (leftover inventory that might otherwise go to waste) as the fabric for their garments.
3. Olivia Rose The Label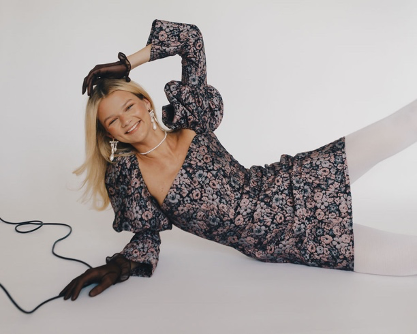 Fast-fashion generally refers to the process of ordering a 'haul' of clothes for under a tenner, wearing each item once before it breaks and then buying a new haul of replacements. It's this process that sees landfills overflowing with clothes and perpetuates a decidedly unsustainable approach to shopping. Olivia Rose is a welcome antidote. Truly embodying 'slow fashion', each gloriously garment is handmade to order by Olivia Rose Havelock in her home studio in Edinburgh, which ensures minimal wastage and inclusive sizing.
4. Bogdar
This independent fashion label simply exudes modern femininity. And it sets a very high standard for sustainable fashion brands too. Bogdar are committed to using high-quality, biodegradable or recycled fabrics and 100% of their cotton is certified by The Global Organic Textile Standard. Their made-to-order business model reduces waste and promotes a more mindful approach to shopping.
5. Sézane
If Emily in Paris has rekindled your affection for Parisian chic, you need look no further than Sézane. The Parisian brand is on every stylist's radar thanks to its signature statement pieces (a particular favourite is the Piero shirt). Sézane's sustainability credentials are even more impressive. In their sustainability report for 2020, the brand reported that ¾ of their materials are eco-friendly, from organic cotton to vegetable-tanned leather, and that 100% of their locations are powered by renewable energy.
6. Faithfull The Brand
Inspired by the legendary muse and singer Marianne Faithfull, this brand's feminine, carefree style is instantly recognisable. Founded by two globe-trotters (the Australian Sarah-Jane Abrahams and Norwegian Helle Them-Enger), Faithfull demands to be worn as you explore the world, leaving little to no trace as you go. Based in Indonesia, Faithfull work with local manufacturers and artisans to produce handmade garments, which are beloved by many household names, including the Duchess of Cambridge!
7. Mother of Pearl
A fashion editor favourite, Mother of Pearl's unites luxury and sustainability to create timeless pieces, which can be worn again and again. After winning the BFC/Vogue Designer Fashion Fund in 2017, the brand launched 'No frills', their first line with a transparent supply chain, sourced using organic natural materials and a sustained effort to minimise the garment's carbon footprint. With Amy Powney at the helm, Mother of Pearl has applied everything they learnt from their 'No frills' journey to the brand as a whole.
8. Laura Lombardi
It's no secret that a expertly-chosen pair of earrings (preferably of the gold variety) have the potential to elevate a stylist's look. But the cost to the earth, not to mention ethical considerations about human labour, are often disregarded entirely. Thankfully, there are plenty of brands showing that sustainable jewellery can be done. The Brooklyn-based Laura Lombardi is committed to only using up-cycled and recycled materials in the creation of their elegant pieces. Crucially, all parties involved in the process are paid fair, living wages.
9. Yam
Every day is Friday when you're wearing Yam. Morgan Thomas's jewellery collection is a unique fusion of nostalgia and happy-go-lucky tenacity. So much so that Lizzo wore Yam earrings in her 'Good As Hell' music video. The New York-based brand has sustainable practices at the core of their business, using a small scale supply chain to ensure that all wax casting (the process in which jewellery moulds are made and filled with molten metal to create custom designs) are made from recycled brass, bronze or sterling silver.
10. Lucy & Yak
Dungaree-extraordinaires, Lucy & Yak's growth as a brand happened as organically as the materials they use for their cult denim pieces. Only certified organic cotton, hemp and linen are used to create the garments. The brand has a team of 30 people working at their factory in Rajasthan, India where all garments are handmade, which means that each tailor sews a garment from start to finish rather than working in a production line. In fact, the supply chain is so transparent that each garment is traceable back to the tailor who made it.
11. Osman Yousefzada
According to Osman Yousefzada, "Luxury should not be at the expense of others or a cost to the planet," and it's clear this ethos is firmly instilled into his brand. Yousefzada's inter-disciplinary approach imbues his designs with an architectural intelligence, asking urgent questions about politics, heritage and community. The brand's innovative spirit has attracted a legion of famous fans, perhaps most notably Beyoncé who 'put [Osman] on the map' after wearing one of his jumpsuits at the 2013 Grammys.
12. Preen by Thornton Bregazzi
Founded in 1996 by Justin Thornton and Thea Bregazzi, Preen's romantic brand aesthetic contains elements of goth and punk. This gently rebellious sentiment extends beyond the brand's designs to the principles behind them. For their SS20 collection, Preen ensured that 50% of the materials used were made from recycled materials such as deadstock and recycled wools.
13. Brave GentleMan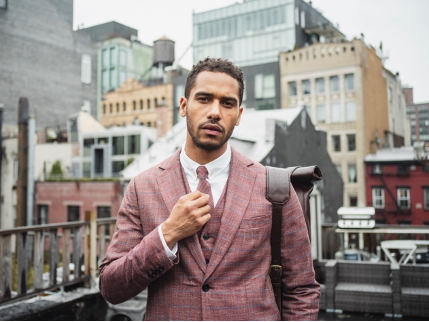 While vegan fashion tends to fall under 'ethical' rather than 'sustainable' fashion due to its focus on animal welfare, Brave GentleMan are the proof that both these aspects of the fashion industry are closely intertwined. As the first vegan lifestyle menswear brand in the world, Brave GentleMan have highlighted the environmental damage caused by using animal products, such as wool and leather, in the fashion design process. Instead, the brand uses organic, plant-based materials such as 'future-leather', 'future-wool' and 'future-silk' to construct their stylish pieces.
14. Veja
They may power us through a particularly gruelling session at the gym but despite being good for our health, trainers are notoriously harmful to the environment. In fact, the production of trainers is so carbon intensive it actually accounts for a whopping 1.4% of all global greenhouse gas emissions. Veja manages to reduce its impact on the climate by using a high proportion of eco-friendly products, including certified organic cotton, and even conducted its own study into the brands CO2 emissions as part of their sustainability strategy.
15. Sabina Motasem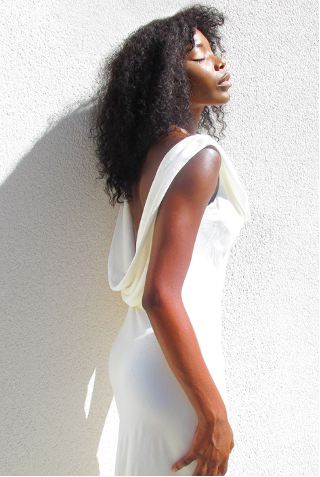 Bridal fashion has seen a sustainable revival in recent years, thanks to brides opting for wedding dresses they can wear beyond the big day or even wearing their grandmother's dresses (we're looking at you Princess Beatrice). The cult bridal brand Sabina Motasem is paving the way for eco-conscious brides, launching 'The Green Collection', consisting of 8 dresses made of Global Recycle Standard certified and vegan materials. They even offer an upcycling wedding dress service, which certainly begs the response "I do!"
16. Tala
The pervasive nature of fast-fashion is, in part, due to its affordability. Need we look further than PrettyLittleThing selling dresses for a mere 8p? Grace Beverley, the founder of activewear brand Tala, is only too aware of this dilemma and is committed to striking the balance between sustainability and accessibility. The brand accumulated £6.2m in its first year of trading alone, proving there's an undeniable appetite for clothes, which are gentle on your purse as well as the earth.
17. Aligne
Another sustainable brand prioritising affordability is Aligne, founded by Dalbir Bains. Preferring to produce timeless pieces over trend-driven bestsellers, Aligne's debut collection is full of day-to-day wardrobe staples with a twist of luxe. There's a minimum of 50% percent sustainability across Aligne's styles, however their goal is to raise this to 80% by 2022.
18. Lara Intimates
While we may outwardly appear to dress head-to-toe in eco-friendly brands, many of us still buy our underwear in cheap, convenient multipacks from retail giants with less than impressive records on sustainability. Luckily, Lara Intimates has provided a ridiculously tempting (and environmentally friendly) alternative! Every garment is made in Lara Intimates' all-female factory in London, which uses responsibly sourced fabric (such as dead stock) and operates a zero-waste policy for offcut materials.
19. Bethany Williams
Proof that the future of sustainability is in safe hands, Bethany Williams's eponymous label directly challenges the wasteful attitude of the fashion industry at large. The menswear brand uses recycled, eco-friendly materials to make the chunky cotton knits and abstract designs that dominated their SS20 collection. Bethany Williams also has a great ethical record: most recently she set up the Emergency Designer Network (with the help of Phoebe English and Cozette McCreery) to manufacture PPE for the NHS in the wake of Covid-19.
20. Ahluwalia
After winning the LVMH Prize in 2020, it's safe to say that Priya Ahluwalia is one of the most exciting emerging designers on the scene. Her menswear brand, Ahluwalia, incorporates her Indian and Nigerian heritage to examine masculinity and vulnerability through her garments. Using vintage and dead stock for the majority of their collections, Ahluwalia employs innovative techniques to unlock the potential of previously discarded materials.
Interested in learning more about sustainability in fashion? Apply for London College of Fashion's 'Fashion Sustainability Certificate' here.